Merkel Presses for EU Defense Boost as U.S. Support May Falter
By and
Warns no 'infinite guarantee' as Trump poised for White House

German chancellor says EU must take on more responsibilitiy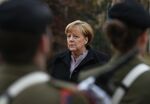 German Chancellor Angela Merkel said Europe needs to do more to ensure its security, citing uncertainty about U.S. post-World War II guarantees eight days before Donald Trump's inauguration as president.
Faced with a global refugee crisis and terror attacks in France, Germany and elsewhere, the European Union would be "naive" to rely on others as global risks threaten the EU's stability, Merkel said Thursday in a speech in Brussels.
"Let's not fool ourselves," she said. "From the point of view of some of our traditional partners -- I'm thinking about the trans-Atlantic relationship among others -- there is no infinite guarantee I'm convinced that Europe and the EU will have to learn to take on more responsibility in the world."
Traveling to the EU's heartland at the start of Germany's election year, Merkel emphasized the security theme that's already figuring prominently in her campaign for a fourth term. As Europe's elites brace for Trump and European populists to upend the postwar order, the German chancellor said the bloc needs more than ever to be placed on a firmer footing.
While EU officials in Brussels should focus on tasks that bring added value to national policy making, member countries must step up and boost funding on defense and security, including responding to asymmetric threats and cyberattacks, Merkel said.
"These are huge issues, but in areas where an additional value would be very clear," said Merkel, who was in the city to receive an honorary doctorate from two Belgian universities. She began the day in Luxembourg, where she visited the house where Robert Schuman, an architect of European unification was born.  
Brexit Spur
EU leaders, who will have summit meetings in Malta in early February and again in Rome in March, "urgently" need to agree on ways to tackle challenges that can only be resolved at a supranational level, including migration, fighting terrorism and an EU security and defense policy, Merkel said.
The U.K.'s decision last year to exit the EU must spur European leaders to seek common ground and improve the EU's decision-making processes, she said.
"We should use this decision to work together now to hold Europe together, to continue to improve and to bring it closer to its citizens," Merkel said.
Before it's here, it's on the Bloomberg Terminal.
LEARN MORE