Guggenheim's Minerd Calls Topping 3% 'Beginning of the End'
By
Says Fed risks falling behind the curve, should hike in March

Manager oversees about $250 billion for Guggenheim Partners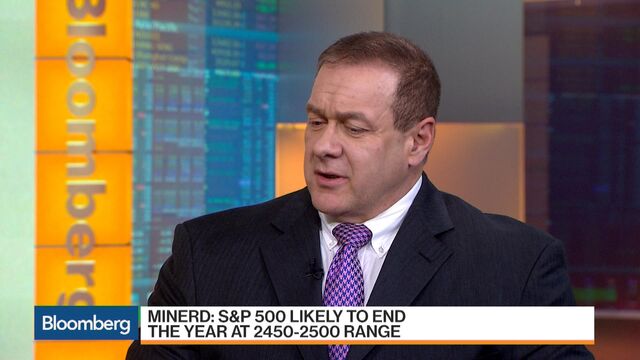 Scott Minerd, who oversees $250 billion as chief investment officer for Guggenheim Partners, said benchmark 10-year Treasury yields could upend their long-term trend if they pierce 3 percent.
"It's basically the beginning of the end," Minerd said in a Bloomberg Television interview on Thursday. "Long-term trends like this don't reverse quickly," he added, saying yields might spend years building a new base before truly taking flight.
Managers including Janus Capital Group Inc.'s Bill Gross and DoubleLine Capital's Jeffrey Gundlach have warned that the long-running bond bull market could end this year as interest rates rebound following three decades of steady declines. Gross said this week to watch out when 10-year Treasury yields pass 2.6 percent, while Gundlach said the U.S. benchmark exceeding 3 percent is the more important level. The yield is now at about 2.36 percent.
Minerd also said the Federal Reserve risks falling "behind the curve" on the U.S. economy and needs to raise interest rates in March, a step that markets see as far from certain. Futures trading implies a roughly 30 percent chance, according to data compiled by Bloomberg.
'Tantrum' Risk
Investors aren't seeing eye-to-eye with the central bank's so-called dot plot signaling where rates are headed, the money manager said.
"The market is vulnerable to a tantrum," he said.
The fund manager also said that while stock markets may be volatile as President-elect Donald Trump takes office, his policies ultimately can provide a "potent mix" for economic growth. The S&P 500 Index, now at 2270, is likely to end the year in the 2450-2500 neighborhood, according to Minerd.
Minerd's $4.2 billion Guggenheim Total Return Bond Fund, his best-known mutual fund, gained 6.2 percent last year, outperforming 89 percent of its Bloomberg peers. It has averaged 6.1 percent returns over the past five years, beating 97 percent of competitors. The fund invests in a range of asset- and mortgage-backed securities, Treasuries and corporate debt.
Before it's here, it's on the Bloomberg Terminal.
LEARN MORE