Grow Your Own Mealworms. In Your Kitchen. To Eat
Watch the world's first desktop insect farm in action, then … mangia. "A lot of people say it reminds them of … nuts."
Bloomberg News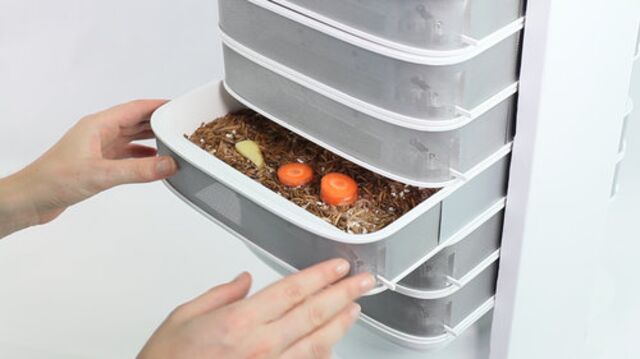 Feeling peckish? How about a quick snack of roasted mealworms?
Even better, how about growing those mealworms on your kitchen counter?
Insects might not be to everyone's taste, but in Asia they've been enjoyed for centuries as a good source of protein, fats, and minerals that can be farmed in small spaces without using much energy or water. Now demand for insects is rising in the U.S. and Europe. One company, Hong Kong-based Livin Farms, says you could be growing half a kilo of worms a week in your own kitchen.
Bloomberg spoke with industrial designer and Livin Farms founder Katharina Unger about the world's first desktop insect farm and the food it produces. She says diners are often pleasantly surprised.
"If you bake it or roast [the mealworm], it becomes very crispy. It's like a snack," Unger said. "In taste, a lot of people say it reminds them of soybeans or nuts."
Before it's here, it's on the Bloomberg Terminal.
LEARN MORE