Goldman Sachs's Dina Powell Named as Trump's Economic Assistant
By , , and
She's leaving post as head of philanthropic investing

Powell to assist on entrepreneurship, small-business growth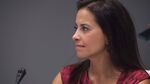 Dina Powell will leave her post as the head of philanthropic investing at Goldman Sachs Group Inc. to join the Trump administration as an assistant to the president and senior counselor for economic initiatives, the president-elect's transition team said Thursday.
Powell, the president of the Goldman Sachs Foundation and global head of impact investing at the bank, will assist the administration's "new efforts around entrepreneurship, small-business growth and the global economic empowerment of women," according to the statement.
Powell, a partner at the bank since 2010, was personnel director, then U.S. assistant secretary of state for educational and cultural affairs, in George W. Bush's administration. She was hired by the New York-based bank in 2007. Goldman Chief Executive Officer Lloyd C. Blankfein, in a statement, praised Powell's "outstanding service to the firm."
"We will miss her at Goldman Sachs, but know the country will benefit greatly from her deep commitment to creating opportunity and economic growth in communities throughout the United States," Blankfein said.
As head of the foundation, Powell was the public face of the firm's charitable activities. Her various initiatives have won her recognition from former Secretary of State Hillary Clinton and Valerie Jarrett, an adviser to President Barack Obama. Donald Trump called her "a leader in both economic growth and the crucial empowerment of women in various aspects of business development and entrepreneurial endeavors."
Trump's Pride
"I am proud to have her serve as a senior counselor in my administration," Trump said in the statement.
Although Trump criticized the bank as a symbol of Wall Street greed during his election campaign, Powell joins at least three other Goldman alums in the new administration. Steven Mnuchin, a former partner at the firm, was named Treasury secretary; former Goldman Sachs President Gary Cohn was named to the top White House economic post; and Stephen Bannon will be chief strategist.
Skybridge Capital's Anthony Scaramucci, who worked for Goldman Sachs from 1989 to 1996 and who is a member of Trump's transition team, also is being considered for a role, and Jim Donovan is the front-runner to be Trump's pick for undersecretary of domestic finance, a key position in the Treasury department where he would work with Mnuchin, a person familiar with the decision said last week.
Powell has worked closely with Ivanka Trump, but the president-elect's daughter isn't expected to have a formal role in the West Wing.
Before it's here, it's on the Bloomberg Terminal.
LEARN MORE