VW Managers Safe From Extradition, as Long as They Stay Home
by
Neusser, Dorenkamp charged in diesel-emissions scandal

Leaving Germany could lead to swift arrests, extradition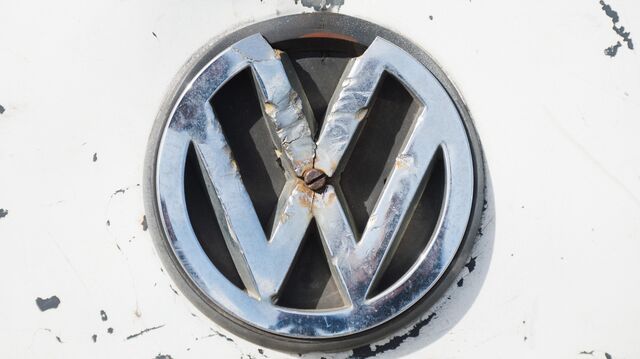 Five German Volkswagen AG executives facing U.S. charges linked to the diesel-emissions scandal may be able to avoid jail, but they may never be able to travel beyond the Black Forest again.
While Germany doesn't extradite its citizens to countries outside the European Union, the U.S. can seek an international arrest warrant that would be executed if any of the men left the country. That's the dilemma now facing Heinz-Jakob Neusser, Richard Dorenkamp, Bernd Gottweis and two others, who were charged Wednesday in a court in Michigan.

"You always advise clients who are facing probes abroad not to leave German territory," said Heiko Lesch, a defense attorney in Bonn. "That's true for any investigation in a foreign country regardless which one, at least when we're talking about serious offenses."
Volkswagen, based in Wolfsburg, took a major step toward resolving the darkest financial crisis in its history Wednesday, agreeing to plead guilty to an emissions-cheating scandal and to pay $4.3 billion. At the same time prosecutors announced charges against the five individuals in Germany, bringing the total number of company officials indicted to seven.
Lawyer Warnings
In the months leading up to this week's corporate settlement and indictment against individuals, lawyers had begun to warn clients not to leave the country as fears of impending U.S. charges grew.

The one official who failed to heed the advice is now securely in a U.S. jail. Oliver Schmidt, the company's liaison with U.S. regulators, was arrested at the Miami airport Saturday as he prepared to fly home from a poorly timed vacation. U.S. investigators had filed a criminal complaint against him on Dec. 30 at a U.S. District Court in Michigan.
Neusser, VW's engine development chief, Dorenkamp, who led the failed effort to design a diesel engine that would meet the tougher emissions standards the U.S. adopted for 2007, and Gottweis, who was responsible for quality management, were all charged with participating in a scheme to mislead regulators about how the company cheated on emissions tests. Jens Hadler, who led engine development from 2007 to 2011, and Juergen Peter, who worked on Gottweis's group, were also indicted.
"It's incredible that an indictment was filed without even once trying to contact my client about the allegations," said Annette Voges, Neusser's German lawyer. "Isn't the U.S. a country where the rule of law applies?"
A defendant shouldn't first learn of an indictment from a press conference live streamed to the world, she said. Along with robbing her client of a chance to give his side of the story, the decision is aggravated by the fact that the U.S. case relies on witnesses who escape prosecution in turn for cooperation, she said.
Werner Franke, Dorenkamp's lawyer, said he couldn't comment because he didn't yet have enough information. Representatives for the other men couldn't immediately be reached.
Prosecutors know from experience, however, that the five other men will be able to evade capture as long as they stay in Germany. In a previous German scandal, U.S. officials in 2011 charged eight Siemens AG officials and agents in relation to a bribery scheme.
None of the accused in the Siemens case appeared in court for four years, when one former executive traveled to New York to plead guilty. As part of a plea agreement, he agreed to provide information and testify against the others.
U.K. Extradition
The situation in Germany starkly contrasts that of the U.K. Several British currency traders who were also charged this week -- in the waning days of the President Barack Obama's administration -- face an extended, but largely futile fight against extradition, lawyers say.
"Germany and a number of other countries have better protections for their citizens so, while they may be trapped in the jurisdiction, they at least have some safety from the long-arm of U.S. law enforcement," said Karen Todner, a London extradition lawyer.
U.S. Attorney General Loretta Lynch said at a press conference in Washington on Wednesday that it's "too early" to say how it would handle prosecutions for the five individuals that are in Germany.
Cooperation may be the way for the five executives in the VW case to avoid a prolonged standoff that may affect more than their travel plans, said Oliver Wallasch, a Frankfurt-based defense attorney who often represents clients in extradition cases.
"The U.S. can mount up enormous pressure," Wallasch said. "But they can also release that pressure very quickly, because there's plea bargaining. With a good defense strategy you can avoid an arrest warrant."
Road Map
Wallasch said that in a recent tax case, a client was facing up to 15 years in prison. After negotiating with U.S. prosecutors, the client voluntarily went to the U.S. and the case was resolved without a prison term.
"That should also be the road map for the people at VW who are facing U.S. investigations," he said. Being locked in Germany "is no option for someone in an international industry. You don't want to stay in Wolfsburg for good."
Any slip ups, like the one made by Schmidt, could lead to a swift arrest as the U.S. can enlist help of other countries via Interpol. German hedge fund manager Florian Homm, who was sought by the U.S. for investor fraud, was arrested in 2013 at the famous Uffizi Gallery in Florence, Italy.
In 2009, director Roman Polanski was arrested in Switzerland on more than 30-year-old sexual assault charges when he ventured out of France -- which also doesn't extradite its citizens, to accept an award. Polanski was eventually released by the Swiss after a 10-month extradition fight.
"You don't know what the authorities are doing, whether there's an arrest warrant or what risks there might be," said Lesch, who represents one of the Siemens executives. "But I can also tell you: not every client heeds to what his lawyer advises him. Often it works out, but sometimes not -- for whatever reasons."
While suspects in the Volkswagen case will have to limit their travel options, the German tourist association says their home country offers a wealth of holiday and business destinations.
"We have mountains and seas, rivers and lakes, hiking regions, small and big cities -- an enormous diversity," said Claudia Gilles, the association's managing director.
But still, German Christmas markets can't quite compete with the lure of Florida beaches.
"The only weak point is occasionally the weather," Gilles said. "That's not always reliable."
Before it's here, it's on the Bloomberg Terminal.
LEARN MORE