Dimon Praises Cabinet Picks, Says He's Optimistic About Trump
By
Trump hires are 'experienced, successful, smart and patriotic'

Calls Mnuchin 'very qualified;' Tillerson 'a class act'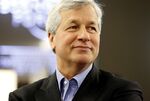 JPMorgan Chase & Co. Chief Executive Officer Jamie Dimon said he's optimistic about President-elect Donald Trump's administration because of the group of people he's assembled to fill his cabinet.
"If you want to win the game, put Tom Brady on the field," Dimon, 60, said in an interview Thursday on CBS This Morning. Trump's "hired a lot of professional people, people that are experienced, successful, smart and patriotic," he said.
Dimon's comments came amid this week's marathon of Senate confirmation hearings. All of Trump's picks are expected to win confirmation, barring unexpected revelations or major gaffes.
Dimon praised Steve Mnuchin, Trump's pick for Treasury secretary, saying the former CEO of OneWest Bank Group LLC is "very qualified" and "wants to do the right thing." Despite rumors last year that he was under consideration for the Treasury job, Dimon said Thursday he wasn't offered the position, adding that he hasn't finished his work at JPMorgan and at the Business Roundtable, an association of U.S. CEOs.
Rex Tillerson, Trump's nominee for secretary of state, is "respected by everyone he deals with around the world," Dimon said. Tillerson, the former CEO of Exxon Mobil Corp., has faced criticism for his dealings in Russia in the run-up to his confirmation. He was pressed on U.S.-Russia relations during his Senate confirmation hearing on Wednesday, responding that Moscow has acted against U.S. interests and urged an "open and frank dialogue" on areas of mutual concern.
"Rex Tillerson is a class act -- he's smart, he's patriotic," Dimon said. "Almost every big company has dealings in Russia; that doesn't mean he's not a patriot."