Robot Nannies Look After 3 Million Chickens in Coops of the Future
"Problems sometimes involve human error, so full automation enhances the safety level."
By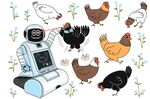 In a nation where food safety is so elusive that even some chicken eggs have been found to be fake, China's consumers have good reason to be skeptical about their groceries. That's forced many food processors to look for novel ways to highlight the wholesomeness of their products. But few have gone to such extremes as poultry powerhouse Charoen Pokphand Group, which is deploying a flock of robots to convince customers its birds are healthy.
About 3 million laying hens raised near Beijing by the Bangkok-based conglomerate get daily checkups from machines dubbed "nanny robots." The sensor-filled humanoids, perched atop a base with wheels, roll through a massive complex of windowless coops for 12 hours a day, monitoring the fowls' temperatures and movements. Human colleagues pluck feverish or immobile birds from their cages to protect the rest of the brood and keep sick birds and their eggs from reaching kitchen tables.
CP Group, China's third-largest poultry producer, is using the 18 automatons to curtail outbreaks of bird flu and food-borne illnesses that plague a mainland industry expected to reach $138.2 billion in revenue within five years. "Food safety is a major problem in China," says Xie Yi, a senior vice chairman of CP Group's China agribusiness unit. "We want to control the whole chain from the farm to the table. Problems sometimes involve human error, so full automation enhances the safety level."

China is the world's largest producer of eggs and the second-biggest grower of chickens after the U.S., according to market researcher IBISWorld. The nation's poultry industry—including chickens, ducks, geese, ostriches, and quail—generated an estimated $100.7 billion in revenue last year.
The business is highly fragmented, with the five biggest companies accounting for only 9.7 percent of market share, according to IBISWorld. CP Group ranks behind Guangdong Wen's Foodstuff Group and New Hope Liuhe. Most of the industry consists of hundreds of thousands of family-owned farms, including many selling eggs and slaughtered-while-you-wait meat at roadside markets.
The government's inability to monitor all those suppliers allows leaks to spring in the food safety pipeline, primarily through poor sanitation, lack of refrigeration, or overuse of antibiotics in animal feed. Bird flu is rampant, with at least two outbreaks at chicken farms reported by China's agriculture ministry in December 2016 alone.
In the World Health Organization region that includes China, 125 million people get sick and 50,000 die annually from food-borne illness. The Chinese food industry also is rife with scandal, from melamine-laced concoctions sold as milk that killed six people in 2008 to the fake beer and potentially radiation-tainted seafood discovered in 2016.

Fake eggs have plagued Chinese consumers since at least 2005, when the state-run Xinhua News Agency said they were discovered being sold at a street market in Guangzhou. The shells were made of calcium carbonate, while the egg white and yolk were a mixture of sodium alginate, gelatin, and tartrazine.
President Xi Jinping's latest five-year plan calls for building seven laboratories to assess food risks and develop stricter standards and for improving monitoring in villages and towns. The government last year issued plans to make food traceable to its farming, slaughter, or processing source and to reduce the improper use of veterinary drugs such as antibiotics, which can trigger resistance in humans.
"Food safety is very high on the political agenda," Dr. Bernhard Schwartländer, WHO's representative in China, said in an e-mail. "Building on these improvements, there is more that can be done."

CP Group generated 50 billion yuan ($7.2 billion) in China sales from its agribusiness operations, including animal breeding and feed, in 2015, the last year for which figures are available. Its poultry industry market share last year was 2.3 percent, according to IBISWorld. The China unit produces about 400 million chickens a year and plans to almost triple that amount in the next 5 to 10 years, Xie says.
The threats posed by disease and counterfeiting prompted CP Group to deal with its own chicken-and-egg problems. The nanny robots patrol warehouses at its egg farm in Pinggu, about 50 miles northeast of Beijing, where 2.4 million eggs are produced daily. The gray machines, as tall as three tiers of chicken coops, roll down 417-foot-long rows of cages and conveyor belts. Sensors in their heads, midsections, and knees record the birds' temperatures—just like the human health-checking sensor stations now common in Asian airport concourses—and snap six photos a second to identify lack of movement.
Workers in a control room step out to grab chickens that have a temperature varying from the normal 41C (106F) or aren't moving. Some of those fowl wind up next door, feeding pools of crocodiles being raised for their skin by CP Group. That's about the extent of human contact for the birds. The robots take six hours to cover one floor of the coop, then recharge for an hour and do it again.

"Attending the flocks with robots isn't typical, either in China or the U.S.," says Hongwei Xin, director of the Egg Industry Center at Iowa State University in Ames. But "it could very well become a trendy and valuable tool."
Although CP Group doesn't mention the robots in consumer advertising, it has told wholesale customers about them. "It really helped us to stand out in the market and instilled confidence in our customers such as supermarkets and other food retailers," says Xie.
The robots can be sentinels for early signs of disease in flocks. Detecting sick fowl quickly and separating them from healthy birds could stop germs from spreading and thwart potential outbreaks, says Glenn Browning, a professor of veterinary microbiology at the University of Melbourne. Another benefit: Robots minimize human contact with chickens, reducing the risk of potentially harmful pathogens from humans, such as E. coli and Staphylococcus aureus, being introduced into coops by workers.
That can help farms reduce their use of antibiotics, which are implicated in the emergence of difficult-to-treat bacterial infections in both animals and people. "The government has made efforts to improve food safety, but there's still room for more improvement," says Yu Jianping, a senior vice chairman of CP Group's China agribusiness unit who oversees the Pinggu farm. "The robot is part of our food safety control."

—With Jason Gale
The bottom line: China's poultry industry had an estimated $100.7 billion in revenue in 2016. CP Group uses robots to keep its birds healthy.
Before it's here, it's on the Bloomberg Terminal.
LEARN MORE