Trump Slams Russia Report as He Unveils Business Exit Plan
By and
President-elect holds first news conference since July

Report of alleged Russian intelligence scheme derided by Trump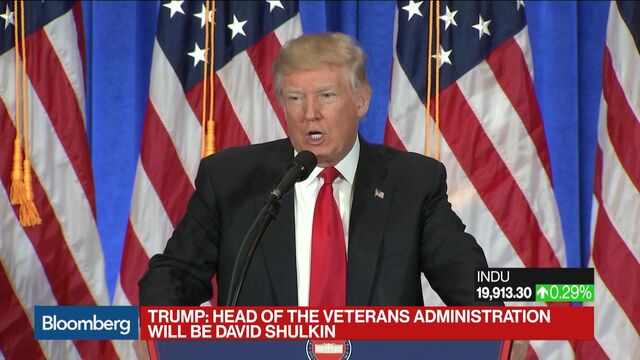 President-elect Donald Trump denounced publication of uncorroborated memos alleging the Russian government had gathered potentially damaging information on him, and he said he would remove himself from his businesses to avoid conflicts of interest while president.
Trump's first formal news conference since July was originally scheduled so he could detail how he will untangle his sprawling business empire, with more than 500 companies with $3.6 billion of assets and more than $600 million in debt and ties to more than 20 countries. He said he is stepping down from all positions at the Trump Organization, though he won't be divesting his ownership in the company or placing it in a blind trust.
But the event Wednesday at Trump Tower in Manhattan was dominated by questions about Trump's relationship with Russia and news of the unverified material about Russian efforts to collect prejudicial information about both Trump and Democrat Hillary Clinton. Trump turned his ire on BuzzFeed, the website that published the series memos on Tuesday, while applauding other news organizations that had declined to report the information even though it had been circulating in Washington for months.
"I want to thank a lot of the news organizations here today," Trump said, noting that most had declined to publish the information. "It's a big disgrace that information would be let out. It's all fake news. It's phony stuff, it didn't happen and it was gotten by opponents of ours."
Intelligence Agencies
He also suggested that U.S. intelligence agencies might have been behind the release of the memos to undercut him after he previously expressed skepticism about their conclusion that Russia was behind the hacking of Democratic Party computers and leaking of e-mails to boost his chances in the presidential election.
The material "was released by maybe the intelligence agencies, who knows, but maybe the intelligence agencies, which would be a tremendous blot on their record if they in fact did that, a tremendous blot," Trump said.
Trump said he has "no dealings with Russia," including loans or business ties and he said he was unconcerned that Russian President Vladimir Putin may have preferred him over Clinton.
"If Putin likes Donald Trump, guess what folks: That is called an asset, not a liability," Trump said. "Russia will have far greater respect for our country when I'm leading it."
The dossier came to light after U.S. intelligence officials provided Trump and President Barack Obama with a summary of the material as an annex to a briefing on Russian government attempts to meddle in the U.S. presidential election by hacking Democratic Party computers and leaking internal e-mails. CNN, which first reported the briefing summary on Tuesday, said intelligence officials informed Trump, Obama and top congressional leaders about the existence of the memos, though not the details they contained.
Russian Motives
The aim of the alleged Russian government intelligence-gathering was to leverage the information to shift U.S. policy toward Russia, including by potentially blackmailing Trump, according to the memos.
Questions about Trump's personal and business ties to Russia have dogged the president-elect for months, as well as the ties of some of his campaign advisers, while he has insisted he has no conflicts that would compromise him as president. Trump has questioned the intelligence community's conclusions about the Russians' role in hacking Democrats' e-mails during his race last year against Clinton and rejected the idea that the hacks influenced his win.
Trump spoke as several of his cabinet nominees were undergoing confirmation hearings before Senate committees, including Rex Tillerson, the former chief executive officer of Exxon Mobil Corp. who the president-elect has selected as secretary of state. U.S. relations with Russia dominated the questioning of Tillerson. Tillerson said Russia has acted against U.S. interests and urged an "open and frank dialogue" so that "we know how to chart our own course."
Business Ties
On his business ties, Trump said he is stepping down from all positions at the Trump Organization, though he won't be divesting his ownership in the company.
"I have a no conflict of interest provision as president. I could actually run my business and run government at the same time. I don't like the way that looks but I would be able to do it," he said.
Attorney Sheri Dillon laid out in detail Trump's plan after the president-elect spoke.
Trump Organization
The businesses will be placed into a trust overseen by an independent ethics officer and managed by Trump's sons Eric and Don Jr., and chief financial officer Allen Weisselberg, who will make decisions without consulting the president, according to Dillon. The Trump Organization will terminate all pending partnerships, and won't enter into new international business arrangements, such as licensing deals for new hotels, while Trump remains in the White House.
Existing Trump businesses, which include hotels and golf courses, will continue to operate and enter into new agreements, such as hosting weddings, parties and other events. Those will be reviewed by the ethics officer to ensure they are conducted at arms' length.
At the news conference, Trump also announced he'll nominate David Shulkin to be secretary of Veterans Affairs, heading an agency that has been beset by complaints of delayed medical care for military veterans. Shulkin is currently an undersecretary in the agency.
Trump also repeated his campaign promises to build a wall along the U.S. border with Mexico and make the Mexican government reimburse the cost. Though he conceded that the U.S. would initially have to pay the bill. He said the Affordable Care Act, known as Obamacare, will be repealed and replaced "simultaneously."
— With assistance by Toluse Olorunnipa, and Margaret Talev
Before it's here, it's on the Bloomberg Terminal.
LEARN MORE