Russian Warship Hosts Libya's Haftar as Putin Courts New Ally
By
Eastern commander visits Russian aircaft carrier in Tobruk

Haftar received medical supplies for fighters and civilians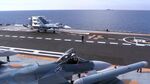 Khalifa Haftar toured Russia's aircraft carrier anchored off the Libyan coast and held a video call with Defense Minister Sergei Shoigu, the biggest sign yet of growing ties between the Kremlin and the eastern Libyan-based military commander.
Haftar boarded the aircraft carrier Admiral Kuznetsov as it was relocating from Syrian waters to a home port in Russia, the Defense Ministry in Moscow said in an e-mailed statement on Wednesday. The ship was anchored off Libya's city of Tobruk, according to Irrish Syed, head of the foreign media department in the country's east.
The powerful commander, who's in conflict with the fragile United Nations-backed government in Tripoli in the country's west, spoke with Shoigu about taking actions against Middle Eastern terror groups. He also received medical supplies for Libyan fighters and civilians, according to the ministry.
A one-time ally of former Libyan leader Muammar Qaddafi, Haftar, 73, controls a large swath of Libya's territory and most of its oil fields. His tour of the Russian warship comes amid escalating tensions with the Tripoli government that risk deepening turmoil in the North African crude producer, which just started revving up its oil industry.
Russia is seeking to restore some of its Soviet-era influence in the Middle East after turning the tide in Syria's war through military intervention in support of President Bashar al-Assad. Russian President Vladimir Putin angrily condemned a NATO-led military campaign that overthrew Qaddafi in 2011 as a "crusade."
Haftar visited Moscow twice in the past seven months, meeting with the Russian foreign and defense ministers as well as the national security chief to seek support. Russia printed 4 billion Libyan dinars ($2.8 billion) on contract for the Libyan central bank -- and transferred it to an eastern city that is loyal to the military chief.
Haftar is "a leading political and military figure" in Libya, Russia's Deputy Foreign Minister Gennady Gatilov said in an interview last month.
— With assistance by Henry Meyer, and Saleh Sarrar
Before it's here, it's on the Bloomberg Terminal.
LEARN MORE