politics
Tillerson Veers From Trump Line as Russia Looms Over Hearing
By , , and
'NATO allies are right to be alarmed at a resurgent Russia'

Republican Rubio asks if Putin should be called a war criminal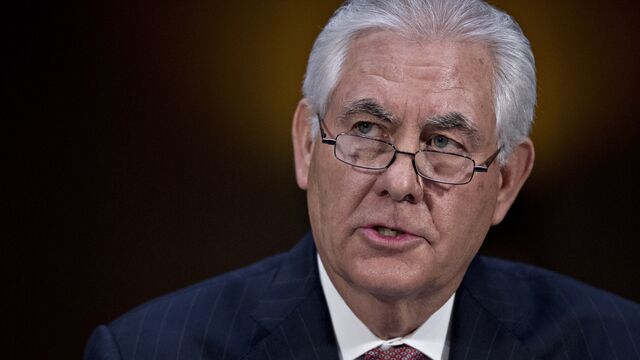 Under aggressive questioning centered on U.S.-Russia relations, Secretary of State nominee Rex Tillerson showed he isn't entirely in lockstep with President-elect Donald Trump on key foreign policy issues he'd face as America's top diplomat.
The former Exxon Mobil Corp. CEO called at his confirmation hearing Wednesday for more assertive U.S. leadership in the world, a contrast from Trump's "America First" vision of fewer entanglements abroad. He also called Russia a "danger" to the U.S. and said the latest sanctions on Russia for hacking the 2016 election, which Trump has criticized, should remain at least for now.
"Our NATO allies are right to be alarmed at a resurgent Russia," Tillerson said. At the same time, he faulted a lack of U.S. leadership for encouraging Russia's aggressiveness in places such as Crimea and Syria, citing "weak or mixed signals with 'red lines' that turned into green lights."
More than eight hours of intense questioning from members of the Senate Foreign Relations Committee highlighted a deep unease in Congress over Trump's stated desire for a friendlier relationship with Russia despite its support for the regime in Syria and the U.S. intelligence community's consensus that President Vladimir Putin's government was responsible for the hacking of last year's presidential campaign.
After the hearing, Senator Chris Murphy, a Connecticut Democrat, said Tillerson couldn't handle "softballs" on issues such as human rights violations in Saudi Arabia and the Philippines. He predicted most Democrats would vote against Tillerson and noted that a single Republican defection in the committee could stall the nomination. Republican Senator Bob Corker of Tennessee, the committee chairman, said he remained "very optimistic" about Tillerson's chances.
Rubio's Challenge
Several of the most heated exchanges came with Senator Marco Rubio, a Florida Republican, who repeatedly sought to get Tillerson to define where he sees human-rights abuses around the world. At one point, Rubio asked Tillerson whether he thinks Putin is a war criminal for the Russian military's role in bombing the Syrian city of Aleppo.
"Those are very very serious charges to make and I would want to have much more information before reaching a conclusion," Tillerson, 64, replied. Rubio shot back: "I find it discouraging your inability to cite that, which I think is globally accepted."
Rubio said after the hearing that he's still undecided on confirming Tillerson. Fellow Republican Lindsey Graham of South Carolina, who's not on the committee, told reporters that Tillerson needs to say more about what should happen to Russia in response to its campaign hacking.
See Tillerson's campaign contributions during the 2016 election cycle.
During the hearing, Tillerson also showed shades of difference with Trump on issues such as the Trans-Pacific Partnership, saying he wasn't opposed to the trade deal that Trump has vowed to abandon after taking office Jan. 20.
The nominee said his position on the North Atlantic Treaty Organization is that a provision calling for the U.S. and other allies to militarily defend other treaty members if attacked is "inviolable." That's in line with decades of foreign policy convention that Trump has repeatedly questioned.
To read about Tillerson's Exxon-Ethics plan, click here
As the day wound down, Senator Chris Coons, a Delaware Democrat, noted the numerous times over the course of the hearing where Tillerson's statements differed from Trump's. Tillerson responded that one reason he took the job was his optimism that Trump was open to hearing his views.
"My sense is we're going to have all the views presented on the table, and everyone will be given the opportunity to express those, and the president will decide," Tillerson said.
Pressed on U.S.-Russia relations, Tillerson said Moscow has acted against U.S. interests and urged an "open and frank dialogue" on areas of mutual concern. But he also acknowledged that he's had little discussion with Trump on the subject, a statement that Thomas Wright, a fellow at the Center on the United States and Europe at the Brookings Institution, described as "astonishing."
'Status Quo'
"Tillerson said very little about what Trump's foreign policy will be like, either because he does not know or because he thinks it would get him into trouble," Wright said in an interview.
Tillerson sought to steer clear of the U.S. intelligence finding on hacking, saying he hasn't been fully briefed on it, though he did say such action "would not comport with our democratic process." At the same time, he said it was important when it came to sanctions "to keep the status quo until we are able to develop what our approach is going to be."
The Senate hearing came as Trump held his first news conference since July, facing a barrage of questions about his relationship with Russia after unverified news reports that Moscow collected compromising intelligence about him. Trump denounced those reports on Twitter late Tuesday night as "FAKE NEWS - A TOTAL POLITICAL WITCH HUNT!" The Kremlin also denied the latest allegations.
Order of Friendship
Beyond the nuanced differences with Trump, Tillerson's remarks are a stark turnaround for an oil baron who staked billions of dollars on Russia's crude bonanza and as recently as 3 1/2 years ago was feted by Russia with its Order of Friendship. One of Tillerson's most decisive moves as chief executive officer and chairman of Exxon was to make Russia the company's biggest single exploration prospect globally.
On sanctions, Tillerson said Exxon has been hurt by penalties against Russia that stalled its drilling plans there. While he said sanctions can have a negative impact on U.S. interests, he said the company didn't lobby against them "to my knowledge" and that he would recommend keeping them in place as the Trump administration takes office.
In an earlier exchange, he said the company had never lobbied on sanctions against Russia, even though disclosures filed by the company and its lobbying firms listed the issue. Tillerson later clarified that he had never lobbied personally on sanctions, prompting Corker to say, "I think you called me at the time."
In his opening remarks, Tillerson said the world risks plunging "deeper into confusion and danger" without American leadership, while Trump has cast the U.S. as overextended and in need of an "America First" policy.
'All the Aces'
"We've got a tough hand of cards that we've been dealt," Tillerson said. "What I know is, America still holds all the aces, we just need to draw 'em out of that deck."
Throughout, senators challenged Trump's foreign policy vision and strategy as much as Tillerson's. In one exchange, he was asked what he thought of Trump's penchant for tweeting on foreign policy issues, such as his vow that North Korea would never get an intercontinental ballistic missile. He said he wouldn't tell his boss how to communicate.
In another, he was asked about Trump's 2015 characterization of Mexican immigrants as rapists and criminals. He responded that he would never characterize an entire population with a single term, adding: "Mexico is a long-standing" friend.
'Radical Islam'
Among global issues Tillerson mentioned was "radical Islam." He said defeating Islamic State terrorists must be "our foremost priority in the Middle East." He called out North Korea and Iran, which he says has been allowed to get away with violations of the agreement that limited its nuclear program. He called for a full review of the deal.
Tillerson faulted China for failing to rein in North Korea's nuclear program and for stealing U.S. intellectual property.
"We need to see the positive dimensions in our relationship with China as well," he said. "The economic well-being of our two nations is deeply intertwined. China has been a valuable ally in curtailing elements of radical Islam. We should not let disagreements over other issues exclude areas for productive partnership."
Those remarks are likely to please leaders in Beijing, who have been unnerved by a litany of tweets in which Trump has questioned 40 years of protocol on Taiwan while saying that China dumps cheap goods on the U.S. market and continues to manipulate its currency.
Senator Tim Kaine of Virginia, Hillary Clinton's running mate in the election, asked rapid-fire questions about allegations that Exxon's scientists and others in the company were long aware that burning fossil fuels contributed to climate change. Tillerson said Kaine would need to ask Exxon about that. When Kaine asked him if he didn't know the answer or was refusing to answer, Tillerson responded, "A little of both."
Later, asked again about climate change, he responded: "I don't see it as the imminent national security threat that perhaps others do."
— With assistance by Steven T. Dennis, Bill Allison, and Ilya Arkhipov
(
Updates with comments on Tillerson's confirmation prospects in fifth paragraph.
)
Before it's here, it's on the Bloomberg Terminal.
LEARN MORE