Goldman Sachs's Dina Powell Said to Join Trump Administration
By and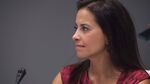 Goldman Sachs Group Inc.'s Dina Powell, head of the firm's philanthropic efforts, is poised to be named to a role in Donald Trump's administration, according to people with knowledge of the matter.
Powell, a partner since 2010, will be a presidential adviser, one of the people said Wednesday, asking not to be identified discussing the private talks. Powell has worked closely with Ivanka Trump, but the president-elect's daughter isn't expected to have a formal role in the West Wing.
The position means a return to government for Powell, who served in George W. Bush's administration before joining New York-based Goldman Sachs in 2007. She was personnel director in Bush's White House and then U.S. assistant secretary of state for educational and cultural affairs. Powell donated to Jeb Bush's 2016 presidential campaign.
Powell didn't respond to messages, while Goldman Sachs spokesman Jake Siewert declined to comment. Politico reported the news earlier Wednesday.
As head of the Goldman Sachs Foundation, Powell is the public face of the firm's charitable activities. Her various initiatives -- 10,000 Women and 10,000 Small Businesses -- have won her invitations to visit with former Secretary of State Hillary Clinton and Valerie Jarrett, an adviser to President Barack Obama.
Powell would be the latest Goldman Sachs executive to join Trump's administration, despite his targeting the investment bank as a symbol of Wall Street greed during the campaign. Steven Mnuchin, a former partner at the firm, was chosen as Treasury secretary and former Goldman Sachs President Gary Cohn was named to the top White House economic post. Alumni Stephen Bannon will be chief strategist, and Anthony Scaramucci may also get a role.
Goldman Sachs banker Jim Donovan is the front-runner to be Trump's pick for undersecretary of domestic finance, a key position in the Treasury department where he would work with Mnuchin, a person familiar with the decision said last week.
Before it's here, it's on the Bloomberg Terminal.
LEARN MORE