markets
Drug Stocks Plunge as Trump Threatens to Force Price Bidding
By and
'We're going to save billions,' Trump says of proposed change

Biotech index drops 3%, large drugmaker stocks down 1.7%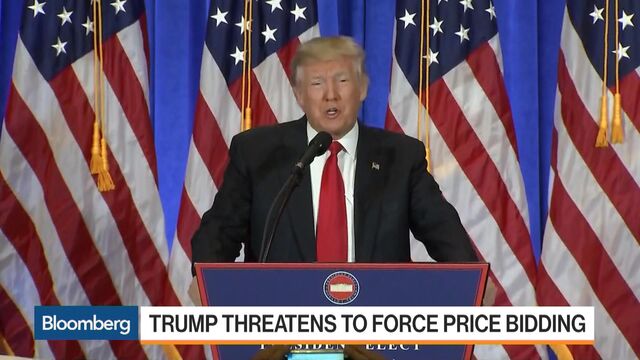 Pharmaceutical and biotech stocks plummeted after President-elect Donald Trump said he'd force the industry to bid for government business, a position that aligns him with congressional Democrats and against the powerful drug-manufacturing lobby.
"They're getting away with murder," Trump said at a press conference in New York. "Pharma has a lot of lobbyists and a lot of power and there is very little bidding. We're the largest buyer of drugs in the world and yet we don't bid properly and we're going to save billions of dollars."
The industry is the latest target of a president who's made a habit of negotiating via Twitter. The Nasdaq Biotechnology Index fell 3 percent in New York, and the Standard & Poor's 500 Pharmaceuticals, Biotechnology & Life Sciences Index dropped 1.7 percent, the biggest one-day drops for the indexes since October.
Investors had been betting that Trump would be good for the industry -- drug and biotech stocks had gained since his election -- but it now appears the Republican may take up the banner Democrats carried during the campaign and lock onto drug prices as an issue that hits many Americans in their wallets.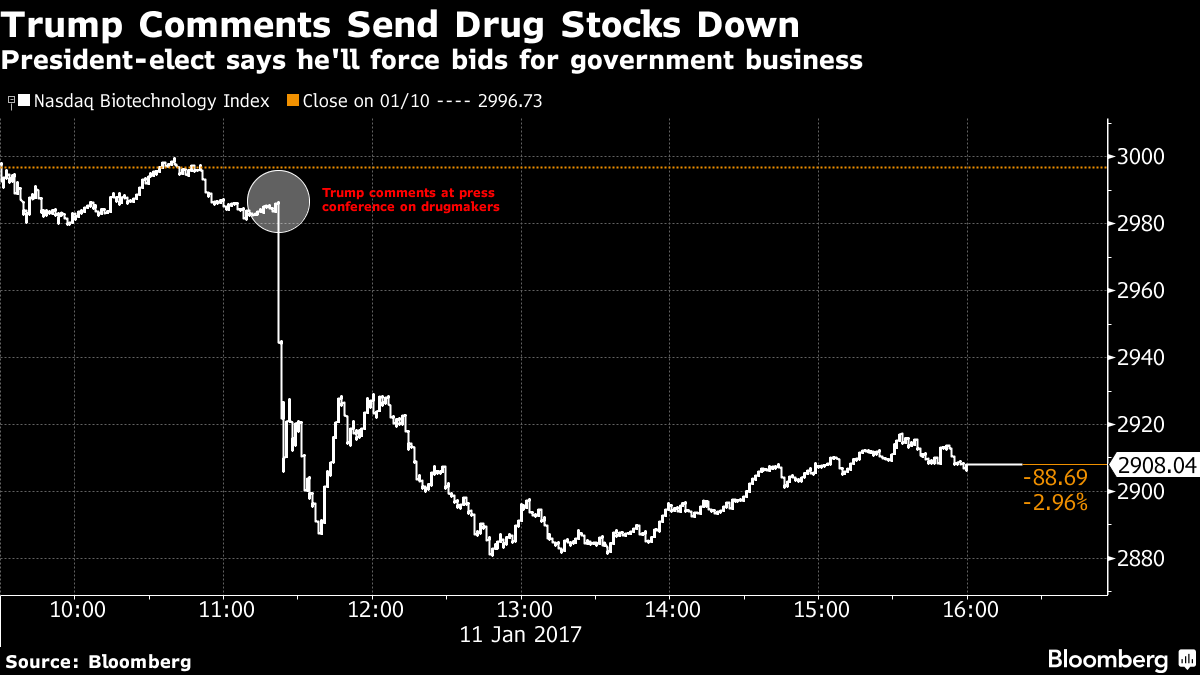 Bristol-Myers Squibb Co. dropped 5.3 percent to $56.80 in New York, the steepest decline in three months. Novo Nordisk A/S fell 5.2 percent to 242.10 kroner at 10:25 a.m. in Copenhagen trading. And Dr. Reddy's Laboratories Ltd. lost as much as 3.3 percent in Mumbai.
Democrats have supported having Medicare, which covers the elderly and disabled, negotiate prices directly on behalf of patients, while defending against such a program has been a priority for the drug lobby in Washington. Medicare is the biggest purchaser of drugs and medical services in the country.
Test Vote
"It's a policy we ought to consider," House Minority Whip Steny Hoyer, Democrat of Maryland, told reporters Wednesday. "But as you know, Republicans have not been open to that consideration."
Senator Bernie Sanders, a Vermont Independent, tweeted that Trump is right about the pharmaceutical industry getting away with murder. "But do Trump and Republicans have the guts to police drug companies and lower prices?" he asked.
The Senate plans a test on the issue this week. The chamber will likely vote on an amendment to the 2017 budget resolution backing the government's ability to negotiate drug prices on behalf of Medicare. The amendment, from Senator Amy Klobuchar, a Democrat from Minnesota, is meant to see where senators stand on the issue. Another amendment up for a vote, from Sanders, would let drug distributors and pharmacists import lower-priced medicines from Canada and other countries and sell those drugs to Americans.
Scares People
The U.S. doesn't directly regulate medicine prices, unlike much of the rest of the globe. President Barack Obama proposed letting Medicare negotiate prices for biologics and other expensive drugs. The government is specifically prohibited from negotiating prices with drugmakers in Medicare's drug benefit program.
Trump's nominee to lead the Department of Health and Human Services, Representative Tom Price, a Georgia Republican, has opposed Medicare drug price negotiation efforts in the past. He'll likely be asked about the issue during Senate committee hearings on his nomination. The Senate health panel's hearing is scheduled for Jan. 18, while the Senate Finance Committee, the only one that will vote on his nomination, has nothing on the calendar yet. 
Heather Bresch, chief executive officer of Mylan NV, took a measured approach to Trump's call for price bidding.
"It would be premature to respond to any one thing" that Trump said, she told attendees at the J.P. Morgan Healthcare Conference in San Francisco. Mylan is mainly a generic drug company that also sells the EpiPen, maligned by Congress last year for substantial price increases. "The pricing model has got to change. I know that scares a lot of people. If anyone is walking away from the conference thinking business as usual, that's a mistake."
'Practical Solutions'
The Biotechnology Innovation Organization, the lobby group for the biotech drug industry, said in a statement it is "eager" to work with all parties to ensure patients have access to the drugs they need and America remains the leader in the development of new treatments.
"We look forward to working with the new administration and Congress to advance proactive, practical solutions to improve the marketplace and make it more responsive to the needs of patients," Stephen Ubl, president and CEO of Washington-based Pharmaceutical Research and Manufacturers of America, said in a statement Wednesday.
PhRMA plans an ad campaign that costs in the "high tens of millions of dollars" that will start in about two weeks to combat the negativity the industry has faced on drug pricing, Ubl said in an interview Tuesday.
During his press conference, Trump also pledged to get drugmakers -- many of which have moved their legal addresses abroad to save on taxes -- to return to the U.S.
"Our drug industry has been disastrous, they're leaving left and right," Trump said. "They supply our drugs but they don't make them here, to a large extent."
He also said Obamacare should be repealed and replaced "essentially simultaneously." 
Republican leadership in Congress has been considering a plan to repeal Obamacare by next month and work on a plan to replace it later.
Veterans Affairs
Trump also announced the nomination of David Shulkin to be secretary of Veterans Affairs. Shulkin is currently the undersecretary for health at the department and is an internist with a medical degree from the Medical College of Pennsylvania.
Trump didn't provide specifics on his call for drug-price negotiations. During the campaign, he backed allowing them and also supported the idea of letting consumers re-import drugs from abroad. After the election, he told Time magazine, "I'm going to bring down drug prices."
"I don't like what's happened with drug prices," he said.
— With assistance by Caroline Chen, Billy House, Katherine Greifeld, Robert Langreth, and Natasha Khan
(
Updates with drugmakers around globe falling in fifth paragraph.
)
Before it's here, it's on the Bloomberg Terminal.
LEARN MORE