Boxed Vodka Just Wants to Be Loved
So then I said, "But I'm recyclable! I won't shatter!"
By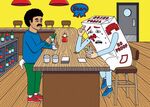 When Eric Clappier, co-founder of Griffon Brands, tells people his premium vodka comes in a box, "half of them laugh in my face," he says. He doesn't think it's so funny. The boxed version, in his view, is more practical: "It's ideal for tailgating, the beach, or the pool. You don't have to worry about glass shattering." But the product hardly sells itself; Clappier spends most of his free time driving from town to town, hawking boxes in person. "We are so unique that you have to be on the ground, in grocery stores and liquor stores and bars, converting one person at a time," he says.
There are a lot of drinkers to convert. The Distilled Spirits Council calls vodka the "backbone" of the U.S. liquor industry. In 2015 it accounted for almost a third of sales by volume and generated $5.8 billion in revenue. Griffon is the only boxed vodka available in the U.S. "With the growth of boxed wine"—its market share doubled from 2009 to 2015 and represented 17.5 percent of all wine sold by volume in 2014, according to consumer researcher Nielsen—"it was inevitable that boxed spirits would happen, and we should be first to market," Clappier says.
His plans started taking shape in 2011. Clappier and co-founder Bill Hersch were talking to a mutual friend in marketing at E. & J. Gallo Winery. The friend mentioned that a wine bag manufacturer he knew had perfected one to handle spirits with a high alcohol content. "It was kind of the aha! moment," Clappier says. Previously, bags used for boxed wine would deteriorate when exposed to higher-proof booze. It wouldn't make the alcohol toxic, but the reaction would create a purply-milk tone—"not a color you want in vodka," he says.
For all the indignities Clappier has faced, Griffon has had success. In stores since May 2015, it's available at more than 1,500 retailers in seven Midwestern states and Pennsylvania. At $15.99 suggested retail per 1-liter box, Griffon is priced as a well vodka, but it's distilled five times for a refined flavor profile, Clappier says. (Other name brands distill four times.) His target audiences are women, who tend to gravitate toward wine, and thus might be more comfortable with the boxed-alcohol concept, and millennials, who have malleable tastes and are eco-conscious. Griffon's packaging is made from 100 percent recycled materials, and the emptied box and the bag inside collapse, reducing the amount of landfill waste.
Alexandra Sklansky, a spokeswoman for the American Craft Spirits Association, says that in a vodka market dominated by large brands such as Absolut and Smirnoff, Griffon's unexpected packaging is smart. "Vodka is colorless, odorless, flavorless," she says. "It tends to be overlooked because it isn't exciting, and that's where marketing comes in. There's a tremendous opportunity to stand out on the shelf."
Still, Ben O'Donnell, an associate editor at Wine Spectator, says there are many reasons why boxed vodka's fate may be different from wine's. For one, spirits don't suffer from oxidation. "You can keep spirits in the cabinet for months," he says. Second, many similarly priced vodkas already come in 1.5-liter recyclable plastic jugs. And as for convenience, "carrying around a box of wine is more portable than carrying four bottles," he says. "But you're generally not bringing your 3-liter box" of vodka to the beach. Whiskey? You might. Clappier is hoping that Fireball, a cinnamon-flavored variant, will broaden the market for boxed spirits. Fireball did a limited boxed release in January 2015 and expanded distribution last summer and fall because of "overwhelming popularity," says spokeswoman Amy Preske. The company wouldn't release sales figures, but, Preske says, "the Fireball Nation is loyal and always thirsty for more."
Clappier likes to remind skeptics of what happened when canned beer was introduced in 1935. "People said, 'Oh, it tastes funny' and 'It's never going to work,' " he says. "Look where beer is with cans now."
Before it's here, it's on the Bloomberg Terminal.
LEARN MORE