Why the Lira's in Trouble: 2017's Worst Performer in Charts
By and
Currency extends 2016's 17 percent loss with new-year plunge

Inflation, central bank inertia, terror attacks causing pain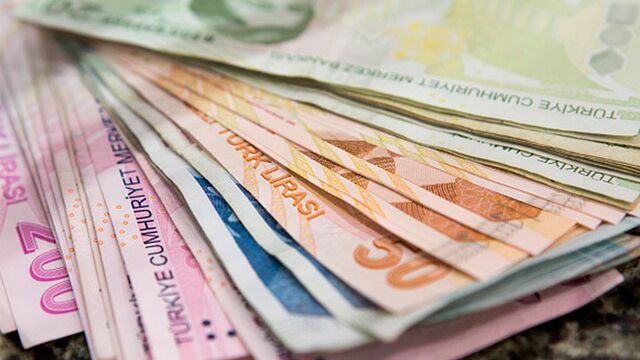 Thought the lira was due a breather after last year's eye-watering losses? Think again.
Turkey's political quagmire has been exacerbated by central bank inaction and higher-than-expected inflation to make the lira the worst-performing currency of 2017.

The currency has dropped 8.6 percent against the dollar in the year's first eight trading days, adding to last year's 17 percent slump. It's set a new record on six of them. The pace of the depreciation has been so steep, it's left all other major currencies trailing in its wake: the next worst-performer of 2017 has been Mexico's peso, and it's weakened about half as much.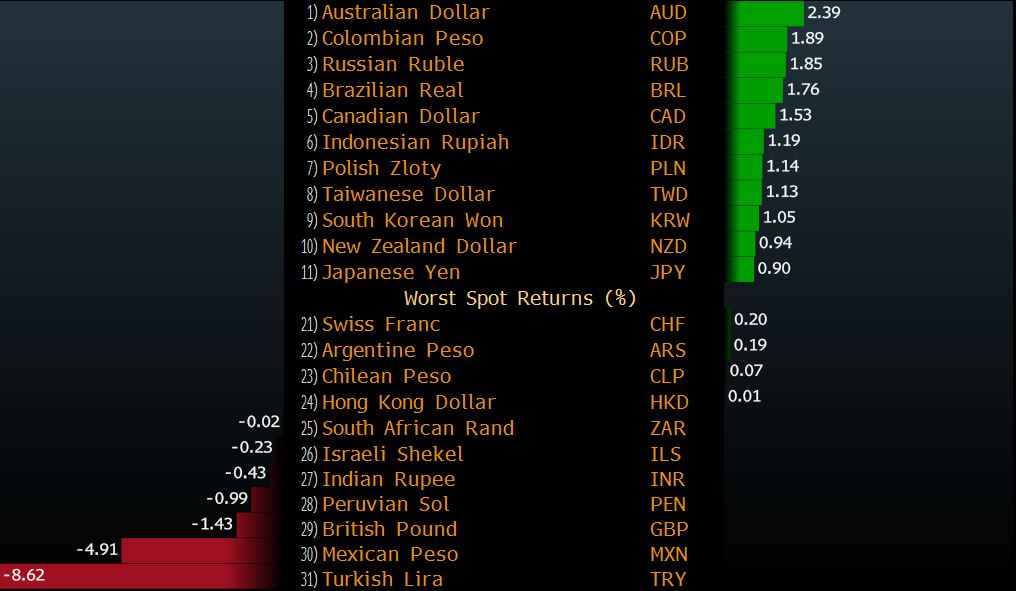 There's no shortage of ways to express the damage. But just why is the lira depreciating? Here are some charts that explain.
An Inert Central Bank


While the U.S. Federal Reserve is in a tightening cycle, the Turkish central bank is dragging its feet. With the economy contracting for the first time in seven years in the most-recent data, the central bank, led by governor Murat Cetinkaya, is under pressure from politicians including President Recep Tayyip Erdogan to support growth. They've made statements the traders are reading as a commitment not to raise rates, setting up the lira as an easy short.
As developed-market yields rise, investors are demanding relatively higher returns to hold lira-denominated assets. Yet rather than raising rates to bolster the currency, the central bank slashed its top lending rate by a total of 250 basis points since March before raising its overnight lending rate by 25 basis points and the one-week repurchase rate by 50 points. Those were the only rate increases in three years during a period in which the lira depreciated on average about 15 percent a year. Last month the bank held rates steady even as the Fed's rate increase added to pressure on the currency.

Inflation
The currency's weakness is fueling inflation. Consumer price growth accelerated to 8.53 percent last month, more than 3.5 percentage points above the central bank's target, the sixth year in a row that it's been missed. UniCredit strategists expect inflation to climb to as high as 12 percent this year and are recommending investors hold off on buying local currency bonds.
Inflation is a problem for an economy that relies on foreign cash to finance a current-account deficit forecast to reach about 5 percent of gross domestic product this year. Rising prices deter foreign investors who fear the value of their assets will be eroded by inflation and a weaker currency.

Locals
Turks are going cold on the lira. On Dec. 2, President Erdogan urged citizens to its defense: "Those with currency under the bed should come and turn their money to gold; they should come and turn their money into lira," he said. Anyone who obeyed his call will have lost 6.6 percent of the value of their savings, but foreign-exchange deposits data suggests they've mostly ignored him.

Corporate debt
That's not to mention Turkey's indebted corporations, which have borrowed heavily in hard currency and now face ballooning foreign-exchange liabilities. The difference between the corporate sector's foreign liabilities and assets climbed to a record $213 billion as of September.

As the lira weakens those companies will clamor to buy dollars to service their debts -- perhaps one reason why a central bank intervention Tuesday that lowered banks' required foreign-currency reserve ratios hasn't sparked a recovery in the lira. In an interview with Bloomberg on Tuesday, Economy Minister Nihat Zeybekçi said the country is considering tighter restrictions on companies' foreign borrowings.
Politics
After two separate nationwide elections in both 2014 and 2015, Turkey thwarted a bloody coup attempt last year. In 2015 it resumed a bombing campaign against separatists in the south-east, and suffered a series of terror attacks in major cities by both Kurdish and Islamic State militants. An hour into the start of 2017, an Islamic State gunman killed 39 people in an upscale, waterfront Istanbul night club, a grim reminder that those problems aren't over.
Meanwhile, parliament voted in favor of debating changes to the constitution, a key step toward shifting executive authority from parliament to the office of President Erdogan. Even without those changes, the president has been concentrating power ever more firmly in his hands in recent years, a grip that's tightened under the post-coup state of emergency. The purge that's been conducted in retaliation for the coup attempt has morphed into a crackdown on a broad swathe of his enemies -- including some in elected office.
Timezone Woes
Low liquidity isn't helping either. The chart below shows that some of the sharpest moves in lira over the past seven trading days have taken place between the Tokyo-London hand-off, a sign that thin trading volumes are accentuating the currency's decline. The head of Turkey's banking regulator, Mehmet Ali Akben, on Monday said that there were "no big volumes" behind the the currency's plunge, and that it's not yet at a level where it'll hurt companies.

Those comments are typical of the nonchalant approach policy makers have taken as the currency crumbled. The central bank has held back from major intervention, and politicians have preferred to shift the blame to speculators who, they say, are attacking Turkey's economy.
And all that is feeding into concern that when policy makers meet again on January 24 they'll continue to resist the market's call for higher rates.
— With assistance by Onur Ant, and Fercan Yalinkilic
(
Updates prices in third paragraph. A previous version of this story corrected the latest inflation figure to 8.53%.
)
Before it's here, it's on the Bloomberg Terminal.
LEARN MORE