Trump Says He's 'Exploring' Forming Commission to Study Autism
By and
Vaccine skeptic Robert Kennedy Jr. says he'll lead it

Trump team says no final decisions made on autism group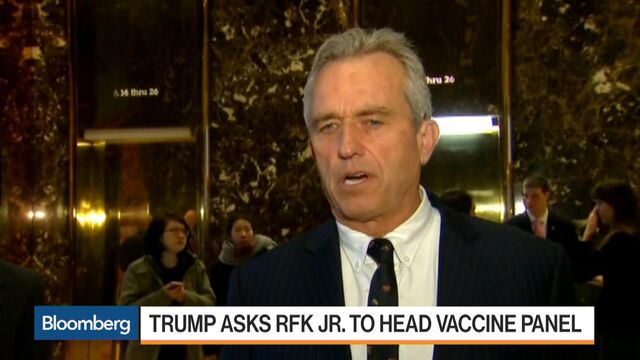 President-elect Donald Trump's team said Tuesday that he's considering establishing a special autism commission after vaccine skeptic Robert F. Kennedy Jr. said Trump had invited him to head up a panel on immunization safety and science.
After meeting with the incoming president in New York at Trump Tower, Kennedy told reporters he had accepted an offer to lead a panel on "vaccine safety and scientific integrity." Kennedy has repeatedly linked childhood vaccinations to autism, in contradiction to broad scientific consensus. In a statement, Trump officials said the president-elect is merely looking into forming a committee on autism, and that no decisions have been made.
Trump "enjoyed his discussion with Robert Kennedy Jr. on a range of issues and appreciates his thoughts and ideas," Hope Hicks, a spokeswoman, said in the statement. "The President-elect is exploring the possibility of forming a commission on autism, which affects so many families."
Kennedy didn't immediately respond to a request for comment on the Trump team's statement. He opposes the use of a preservative called thimerosal in vaccines because it contains a form of mercury that he calls "a devastating brain poison." He says the shots can cause autism and have created a public health crisis, disregarding scientific studies that have concluded they do not. Trump is also concerned about the issue, Kennedy told reporters earlier.
"President-elect Trump has some doubts about the current vaccine policy," he said after the meeting. "He has questions about it. His opinion doesn't matter, but the science does matter, and we ought to be reading the science and we ought to be debating the science."
Standard of Care
Vaccines, a standard of pediatric care for nearly a century, offer benefits to human health that far outweigh any harms, according to the consensus of scientists and doctors.
"Vaccines are safe. Vaccines are effective. Vaccines save lives," the American Academy of Pediatrics said in a statement after Kennedy's earlier comments.
Read more: a QuickTake on Vilifying Vaccines
"Claims that vaccines are linked to autism, or are unsafe when administered according to the recommended schedule, have been disproven by a robust body of medical literature," Fernando Stein, AAP president, and Karen Remley, the group's executive vice president, said in the statement.
Immunization Schedule
Bob Doherty, senior vice president of government affairs and public policy at the American College of Physicians, criticized Kennedy's comments on the vaccine commission on Twitter.
"Lord help us. And kids who will die by giving a platform & undeserved 'credibility' to #antivax movement," he tweeted.
Trump has said he supports vaccines. He has his own issue with how they are administered, however. In a September Republican presidential debate, he said that numerous injections over a short time frame might be a cause of rising autism rates in the U.S. His fix? Spreading out the immunizations beyond the current schedule so infants and young children don't get shots in such a concentrated period. 
Kennedy, a Democrat, has alleged in speeches that vaccines -- some of the best-studied medical products in the world -- are dangerous and that public health officials who oversee them have been corrupted and cannot be trusted. He has fought laws in some states that would remove a parent's ability to exempt their children from the shots.
Thimerosal Fears
Kennedy, the son of former U.S. senator and presidential candidate Robert F. Kennedy, says his own children are vaccinated. But he has given speeches around the country alleging a connection between vaccines and autism.
"They get the shot, that night they have a fever of a hundred and three, they go to sleep, and three months later their brain is gone," Kennedy said in an April 7, 2015, speech in Sacramento, California. "This is a holocaust, what this is doing to our country."
Kennedy, who edited the book "Thimerosal: Let the Science Speak," is specifically incensed about the use of the mercury-containing preservative, which was included in some vaccines since the 1930s. It prevents contamination in vials that contain multiple doses of vaccines.
Thimerosal was largely removed from all immunizations given to children under the age of 6 in 2001, with the exception of an inactivated influenza vaccine, at the urging of the U.S. Food and Drug Administration. Epidemiologists have found no resulting decrease in the number of American children diagnosed with autism since the change took effect.
Declines in use of vaccines, however, have led to increases in the diseases that they prevent, said Daniel Salmon, deputy director of the Institute for Vaccine Safety at Johns Hopkins University School of Public Health and former director of vaccine safety at the U.S. Department of Health and Human Services.
"Aside from safe drinking water, no other public health or medical intervention has had such a profound impact on life than vaccines, even antibiotics," he said in an interview. "The challenge is that you don't think about what you don't see. Vaccines have worked so well that many diseases are no longer around. But people are afraid of autism. Not because vaccines cause it but because it's a terrible disease."
Before it's here, it's on the Bloomberg Terminal.
LEARN MORE