Merkel Coalition Agrees on Anti-Terror Plan After Berlin Attack
by and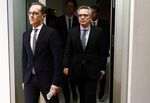 German Chancellor Angela Merkel's government plans to keep a closer watch on asylum seekers deemed terror risks as part of its first set of proposals in response to a truck attack on a Berlin Christmas market that killed 12 people last month.
Interior Minister Thomas de Maiziere and Justice Minister Heiko Maas said the measures would include easing the deportation of rejected asylum seekers, increasing surveillance of many marked for expulsion and limiting development aid to countries that don't cooperate in deportation processes.
"In difficult times, we want to increase the security of the German people by pursuing rational measures," de Maiziere told reporters alongside Maas in Berlin on Tuesday. The measures won't contain any "inappropriate limits on civil rights," he said.
Others measures include limiting movement of some asylum seekers within Germany, lengthening the period suspects can be held in custody and using electronic tags to track suspects.
Before it's here, it's on the Bloomberg Terminal.
LEARN MORE