Liberty Media's Malone Says Cable Firms Could Buy T-Mobile
by and
Billionaire predicts less-restrictive regulatory environment

Phone companies pressing into television blur business lines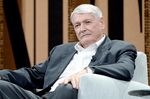 Liberty Media Corp. Chairman John Malone said the Trump presidency could open a new era of consolidation and raised the possibility that three major cable TV companies could join forces and enter the wireless business by acquiring T-Mobile US Inc.
Speaking at a Lions Gate Entertainment Corp. investor event, the cable billionaire said he expects less-restrictive regulatory oversight from the incoming Donald Trump administration. Malone, 75, became one of the largest shareholders of Lions Gate, a film and TV company, through its purchase of his Starz cable networks and other deals.
As business lines begin to blur with phone providers like AT&T Inc. offering live TV over broadband, Malone said a cable industry response could be possible. AT&T, the owner of DirecTV, recently agreed to buy Time Warner Inc. for $85.4 billion, a deal that will require regulatory approval from the new administration.
"Maybe the three major cable companies get together and buy T-Mobile," Malone said. "One could contemplate in a Trump administration Comcast and Charter could merge," he said, referring to the No. 1 and No. 2 cable TV providers.
Representatives for Comcast and Charter declined to comment. Cox Communications Inc., the No. 3 cable provider, said in a statement it doesn't comment on merger speculation, but remains open to investments, partnerships and acquisitions that align with its strategies.
A T-Mobile spokeswoman declined to comment on Malone's remarks. She pointed to Jan. 5 comments by Chief Executive Officer John Legere, who said cable companies that plan to enter the wireless market through network-sharing agreements with carriers, known as MVNOs, will "be in full retreat" by the end of the year.
'La La Land'
Lions Gate, producer of the Golden Globe winning film "La La Land" and "Orange Is the New Black" on Netflix, is a new addition to Malone's media investment portfolio, which includes Charter Communications Inc., Liberty Global Plc, Discovery Communications Inc. and Live Nation Entertainment Inc.
With the Starz acquisition, Lions Gate acquired a premium pay-TV network to go with its film and TV production capabilities.
"Lions Gate is wonderfully positioned to be the gravitational center of the consolidation of free radicals," Malone said.
Before it's here, it's on the Bloomberg Terminal.
LEARN MORE