India Cash Ban Disruptive But Won't Harm Modi's Election Chances
By
Move to invalidate currency has hit growth, led to layoffs

Poor supportive of policy they see as attacking corrupt, rich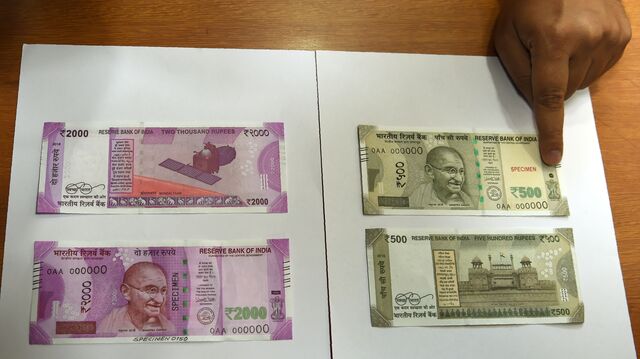 Indian Prime Minister Narendra Modi's disruptive cash ban is unlikely to damage his party's performance in upcoming state polls. In fact, it might even help.
Modi's move to invalidate 86 percent of circulated currency in Asia's third-largest economy forced millions of Indians into lengthy bank queues. It has also dented India's world-beating growth as the country's cash-dependent economy stalled.
But even with millions enduring serious hardship, numerous polls and political analysts indicate Modi's Bharatiya Janata Party will perform well in upcoming state elections, suggesting Modi could win a second term in the 2019 national poll. With less than a month to go before the elections, Modi's surprise cash ban remains popular with India's poor, who think it will hit rich tax evaders, even as the move is criticized by economists such as Nobel laureate Amartya Sen.
"Many people think this is good for the nation," said Sanjay Kumar, a director at the New Delhi-based Center for the Study of Developing Societies. "There is a dominant belief that this will help the country in the long run. And this belief overshadows the pain in the short term."
Read: All Corners of India hit by Cash Ban as GDP Forecast Looms
Bellwether State
The elections in Uttar Pradesh -- a state of 200 million people where the BJP won 71 out of 80 seats in the 2014 national election -- will likely be the most significant Indian political event of 2017. 
To be held between Feb. 11 and March 11, a strong BJP win would consolidate the prospect of a second term for Modi. A weak showing would raise doubts about re-election prospects in 2019 and could "severely impact business sentiment and the government's resolve to stay the course on its reform agenda," according to Mumbai-based Bloomberg Intelligence analyst Abhishek Gupta. 
Either way, the results will move markets and lead to big increases in government's spending on rural areas, said Indranil Sen Gupta, India economist with Bank of America Merrill Lynch.
Polls suggest the BJP will do well in most of the upcoming elections. The party could move from a distant third to either second or first position in Uttar Pradesh, an India Today-Axis poll published Jan. 4 shows. Meanwhile, a CSDS poll suggests the BJP could win 27 percent of the vote, just behind the ruling Samajwadi Party, which is now riven by infighting. Several other polls showed the BJP placing first in Uttar Pradesh.
The BJP is likely to do well in four of the five states, said Kumar, who does polling across India. Modi's party will form governments in Uttarakhand and Goa, and will likely retain power in Punjab with its senior coalition partner, he said. The India Today-Axis poll suggests the BJP may also unseat the ruling Congress government in Manipur, a remote northeastern state.
'Squarely Focused on 2019'
Despite signs the cash ban hasn't netted as much corrupt wealth as intended, the BJP has successfully sold demonetization as a noble anti-corruption measure, said Manoj Joshi, a distinguished fellow with the Observer Research Foundation think-tank in New Delhi.
"The opposition somehow has not been able to cash in on this, on what I would call a blunder. They could have mounted a sharper attack," Joshi said.
Modi is now squarely focused on 2019, Joshi said, and demonetization, as well as surgical strikes across the border into the Pakistan-administered part of disputed Kashmir, are all aimed at shoring up populist support for his party.
'Risky Strategy'
Modi still faces several risks. 
The BJP is relying on Modi's national reputation in Uttar Pradesh, rather than appointing a state chief ministerial candidate, like other parties. In late 2015, the BJP tried this strategy in Bihar and lost the election.
And with results not due until March 11, the feeling that corrupt elites were hit harder than the poor could still shift "swift and fierce," said Richard Rossow, who studies Indian states at the Washington, D.C.-based Center for Strategic and International Studies.
A further threat to Modi's chances could emerge if the cash ban-related contraction deepens further.
"There is widespread support for the anti-corruption intent of the currency move, but there is frustration with how it has been rolled out," said Milan Vaishnav, a South Asia senior fellow with the Carnegie Endowment for International Peace. "Administrative capability was supposed to be the BJP government's calling card, and the opposition smells weakness there."
Before it's here, it's on the Bloomberg Terminal.
LEARN MORE