technology
Fox Settled Harassment Claim Against O'Reilly, NY Times Says
By
'O'Reilly Factor' host pursued relationship with Juliet Huddy

Fox co-president Abernethy also accused of improper conduct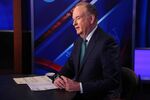 Rupert Murdoch's 21st Century Fox Inc. settled allegations that Fox News host Bill O'Reilly sexually harassed on-air personality Juliet Huddy, the New York Times reported.
In exchange for her silence and agreement not to sue the company, Huddy was paid a sum in the high six figures, the newspaper said, citing documents related to the matter as well as sources it didn't identify.
The allegations targeted the top personality on Fox News, the most-watched channel on cable TV and one of Fox's most profitable businesses. O'Reilly, whose contract expires later this year, is the network's biggest ratings-getter, serving as a lead-in for Tucker Carlson and Sean Hannity.
With one of the the most loyal audiences in TV, Fox News has maintained its lead in the ratings race despite an internal crisis that began last year when its head Roger Ailes was accused of sexual harassment, leading to his ouster from the network he co-founded. The network has pummeled CNN and MSNBC in the ratings since the presidential election in November.
Huddy's harassment allegations are the latest to emerge from a woman at Fox News. Gretchen Carlson, who sued Ailes, left the network and was paid a $20 million settlement by the network. Megyn Kelly, whose departure was announced last week, also said that Ailes had harassed her. Carlson was reported to have recordings to substantiate her allegations.
Huddy said O'Reilly pursued a sexual relationship with her in 2011, and when she rebuffed his advances he tried to derail her career, according to a draft of a letter from her lawyers to Fox News that was obtained by Times.
The letter cited by the Times also included accusations by Huddy against Jack Abernethy, who was named a co-president of Fox News after Ailes's ouster last year. Lawyers for Huddy said Abernethy had retaliated against the anchor professionally after she made clear that she wasn't interested in a personal relationship, the paper said.
"Juliet Huddy's letter of intent to sue contained substantial falsehoods which both men vehemently denied," Fox News said in an e-mailed statement.
Parent company 21st Century Fox was fully aware of Huddy's allegations and believed they were false when it signed Abernethy to a new multiyear deal in September, said a person familiar with the situation who declined to be identified because the negotiations were private.
Legal representatives for O'Reilly didn't return e-mails and calls for comment. Jeanne Christensen, a lawyer for Huddy, declined to comment.
Lawnewz.com first reported on the agreement Monday. The accord between Huddy and the company followed Ailes's departure last summer.
(
Updates with Fox News statement in eighth paragraph.
)
Before it's here, it's on the Bloomberg Terminal.
LEARN MORE