The Options Market Isn't Too Worried About Retail Woes -- Maybe It Should Be
The ratio of puts to calls for the retail sector ETF has come in sharply, notes MKM Partners.
By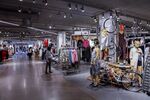 Retail stocks have been thrashed over the past month, yet there's one corner of the market where investors are showing themselves somewhat unperturbed by the damage.
Options traders remain largely sanguine about the near-term prospects for American retailers. They've sent the ratio of bearish bets to bullish ones on the industry tumbling by half despite struggles at some high-profile companies, the perpetual threat from Amazon.com Inc. and heavy short interest in an exchange-traded sector fund.
For Jim Strugger, derivatives strategist at MKM Partners, the relative bullishness might be misguided, especially after the damage done Jan. 4. That's when in a span of less than 10 minutes, Kohl's Corp.  and Macy's Inc. said holiday sales were weak and slashed their full-year earnings forecasts, reminding investors about the challenges facing brick-and-mortar department stores. The two stocks lost more than 14 percent and the industry ETF sank 2.5 percent the next session.
``The options market doesn't appear to have anticipated this weakness nor is it prepared for additional downside catalysts,'' Strugger wrote in a Jan. 9 note to clients. ``Open interest of the SPDR S&P Retail ETF (XRT, $43.71) has increased by 200,000 contracts over the past month to 360,000 but the ratio of puts to calls has actually declined sharply to 1.6 from 3.0." 

There had been reason for optimism, as retailers in the U.S. entered the holiday season amid what seemed like strong economic signals, including high levels of consumer confidence, rising home values and rising wages. The woes of Kohl's and Macy's shattered what may have been an overly complacent attitude -- the phrase ``challenging retail environment'' was mentioned in just three news stories for the week ending Dec. 30, its lowest level since the end of 2004.
To navigate this landscape, Strugger recommends buying puts on the ETF that expire in February with a strike price of $42 ahead of this week's ICR Conference. More than half a dozen companies in the sector will update their business prospects, so the product offers either ``hedges or short directional exposure given ongoing risk of soft top line trends,'' he said.
The ETF rose 0.3 percent to $43.84 at 1:04 p.m. in New York on Monday. The puts would be in the money should the fund fall about 4 percent from that level. The product has plunged 9 percent since Dec. 8.
Short interest in the SPDR S&P Retail ETF sat at 143 percent of float as of Dec. 15, making it the third-highest among U.S. equity products. XRT is equal-weighted and includes many smaller retail names, which can be difficult or costly to borrow on an individual basis. As such, this product is "consistently used as a shorting vehicle," according to Bloomberg Intelligence ETF analyst Eric Balchunas, who notes that it's constantly near the top of these lists due to its heavy use as a surrogate shorting agent.
Bespoke Investment Group's Death By Amazon equal-weighted index, a basket of retailers with a limited online presence who primarily sell third-party brands, has underperformed the online behemoth by more than 275 percentage points over the past five years.
Before it's here, it's on the Bloomberg Terminal.
LEARN MORE