Southern Co. Gains Powerful Ally in Trump Attorney General Pick
By
Utility is biggest corporate donor to nominee Jeff Sessions

Attorney general has sway over environmental enforcement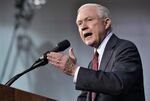 Southern Co., one of the largest investor-owned electric utilities in the U.S., is set to have a powerful friend in the Justice Department if the Senate confirms Republican Senator Jeff Sessions to be attorney general.
The $47.8 billion electric utility has a long history with Sessions and is his single biggest corporate contributor, according to financial disclosures filed with the federal government and analyzed by the not-for-profit Center for Responsive Politics. Southern political action committees and employees have funneled $174,765 to Sessions' political campaigns since the Alabama native entered the Senate in 1997.
Alabama Power is one of the largest Southern Co. subsidiaries.
"The ties between Sessions and Southern Co. run as deep as the darkest coal mine," said Jamie Henn, a co-founder of the climate activist group 350.org. "There's never been such a strident advocate for the fossil fuel industry nominated for the role of attorney general."
Sessions' approach to environmental crimes and regulations may surface during a confirmation hearing beginning Tuesday. Environmental groups have singled out Sessions as one of their top targets for scrutiny, alongside Scott Pruitt, nominated to head the Environmental Protection Agency, and Senate Democratic Leader Chuck Schumer has identified Sessions as one of the Trump nominees set to get the toughest vetting.
Atlanta-based Southern, which has 3 million residential customers, is directly affected by a suite of Obama-era environmental regulations targeting coal-fired power. Coal makes up about a third of its electric generation portfolio, down from about 70 percent in 2008. Its Kemper clean-coal plant under construction in Mississippi is the target of a Securities and Exchange Commission probe. Energy companies also face scrutiny over how well they disclose financial risks tied to climate change.
Read more on Trump's hand in the confirmation process in this QuickTake
Sessions does not directly hold any Southern stock, according to a disclosure form filed with the Office of Government Ethics. E-mails to Trump transition spokesmen seeking comment were not immediately returned. A Southern Co. spokesman declined to comment.
Sessions's second-biggest corporate donor also has ties to Southern Co. Balch & Bingham LLP, a Birmingham-based law firm that has had Southern as a client since at least 2006, has had employees and PACs contributing $140,375 to Sessions over his Senate career.
And a former energy, environment and transportation counsel for Sessions, Jeffrey Wood, went on to lobby for Southern Co. and its Alabama Power Co. subsidiary, before recently advising the Trump campaign.
As the nation's top law enforcement officer, Sessions would play a key role in setting the Justice Department's enforcement priorities -- including decisions about whether to expend precious resources prosecuting environmental crimes. He also would dictate what position the U.S. takes in legal cases involving the federal government and how vigorously to defend its regulations, from rules clamping down on methane leaks at oil wells to the Clean Power Plan slashing power plant emissions.
President-elect Donald Trump has already vowed to roll back the Clean Power Plan and lift a moratorium on selling new federal coal leases. Pruitt, as Oklahoma's Attorney General, has challenged that regulation and a suite of other EPA rules, suggesting he will make good on Trump's vow to rescind "job-killing" regulations. Sessions is viewed unlikely to push back against that approach at the helm of the Justice Department.
In the Senate, the former federal prosecutor has voted consistently against environmental regulations, including supporting resolutions that would undo an EPA water pollution rule and the Clean Power Plan. He also voted against a proposal that would allow hydraulic fracturing to be regulated under the Safe Drinking Water Act and opposed a measure that would set a goal for the U.S. to derive a quarter of its electricity from renewable sources by 2025.
Before it's here, it's on the Bloomberg Terminal.
LEARN MORE