U.S. Attorney General Nominee's Anti-Marijuana Stance Draws Fire From Fellow Republicans
By
Weed is now legal in more states but still faces federal ban

Obama administration has let state pot industries flourish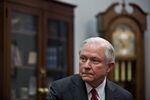 Lawmakers in both parties are pressing Alabama Senator Jeff Sessions not to wipe out the booming marijuana industry in states like Colorado should he win confirmation as U.S. attorney general.
Sessions could theoretically use federal enforcement power to try to cripple what is already a $6 billion business that may soon triple after California, Massachusetts, Nevada and Maine voted in November to legalize recreational use of the drug.
The former federal prosecutor could abandon the Obama administration's wait-and-see approach on what remains an illegal drug on the federal level. Sessions has often voted to devolve other federal powers to states, but has been among the most hawkish members when it comes to marijuana policy and the drug war, lauding the "Just Say No" approach of the 1980s.
Sessions faces a Judiciary Committee hearing Tuesday, where he is expected to undergo contentious questioning from Democrats on other issues. But a number of groups have been pushing him and the incoming Trump administration to keep the Obama administration's approach on marijuana in place. Eight states plus the District of Columbia have legalized recreational marijuana via ballot referendum, and 28 states have medical marijuana laws.
Among those pushing the administration to respect "states' rights" on marijuana is Cory Gardner, the Republican senator from Colorado, ground zero of the legalization fight.
"I look forward to having a 'joint' meeting with Senator Sessions," Gardner joked in an interview in December. "My advice is always to and has been to respect states' rights and to look at what other states are doing and wait and see what's going to happen. So I look forward to having that conversation with him."
QuickTake on Marijuana Legalization
Gardner said last week he still hopes to meet with Sessions on the issue and connect Coloradans to other members of the transition team.
Other senators are also pressing for the policy to remain.
"Senator Gardner and I have worked together on this issue for a long time and I imagine we will continue to work to get the federal government in the new administration to respect Colorado's laws and businesses," said Senator Michael Bennet, a Democrat. "It's certainly a question that I have and will be pursuing it."
Sessions last year slammed Obama for lax treatment of the drug, saying at a hearing, "Good people don't smoke marijuana."
Some marijuana advocates have been protesting Sessions's nomination; others are hoping to woo the new administration.
"I'm cautiously optimistic that it's not going to change," said Robert Capecchi, director of federal policies at the Marijuana Policy Project, after a lobbying visit to Sessions's Senate office. "At this point the toothpaste is so far out of the tube that it's brushing lots of teeth and I think that there would be a reluctance to waste a bunch of political capital to go after an industry that is providing a commodity that already exists."
Public Support
The laws have come as the public's attitude on legalization has changed dramatically, with support for legalization surging above 50 percent in Gallup polls and winning at the ballot box.
The issue doesn't break down cleanly along partisan lines. Dianne Feinstein of California, the ranking Democrat on the Senate Judiciary Committee, opposes legalization.
"To legalize it before you know how you're going to handle it or handle overdoses is a real problem," she said.
But Feinstein isn't sure about enforcement of the federal ban.
"If you're going to have states on a multitude of issues going out and doing whatever they want and not paying any attention to the federal law, it puts the federal government in a terrible position," she said. "Do they enforce or do they not?"
Feinstein said she hasn't decided yet whether Congress should act.
"I haven't figured this one out yet," she said.
Before it's here, it's on the Bloomberg Terminal.
LEARN MORE