Mexico Pledges Cooperation Not Capitulation in Trump Talks
By
Immigrants are best of Mexico, not criminals: foreign minister

Negotiations will promote interests of Mexico and its people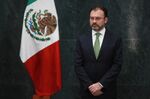 Mexico's newly-appointed lead negotiator to the U.S. said he will avoid confrontation and the risk of humiliation in talks with President-elect Donald Trump, pledging instead to maintain a dignified approach.
Following criticism that Mexico has been too tepid in its reaction to Trump's threats to investment in the country, Foreign Minister Luis Videgaray said the nation will negotiate with intelligence and common sense. He also defended Mexican immigrants in the U.S. who were labeled as criminals by Trump, saying in most cases they're the best of Mexico.
Trump is proposing to tax companies that make U.S. goods in Mexico and to renegotiate or scrap trade agreements with the nation, which sends almost 80 percent of its exports north of the border. The peso plunged to new lows last week after Ford Motor Co. canceled a $1.6 billion factory in Mexico and Trump threatened General Motors Co. with tariffs for importing a version of its Chevrolet Cruze from Mexico. The risk to the local economy has put U.S.-Mexico negotiations center stage, leading President Enrique Pena Nieto to appoint his top adviser and former finance minister last week to take on the job.
BI Primer: Trump Brings Further Downside Risks to Mexico in 2017
"There are voices being raised that promote a strategy of conflict, confrontation and at times insults," Videgaray said. "Other voices are forecasting embarrassing submission. Mexico shouldn't opt for any of those false portals. We will negotiate with intelligence and common sense."
The top priority for Mexico and U.S. trade talks is to stop China from using the North American Free Trade Agreement as a back door to export goods to both countries tax-free, Eurasia Group President Ian Bremmer said in an interview in Mexico City. Mexico may seek to limit goods imported from China as part of negotiations with the U.S., Bremmer said.
"Mexico isn't the enemy of the U.S. I think the concern is about China," Bremmer said. "Trump wants Mexico to buy more from the United States, not as much from China."
During his speech today, Videgaray also said that trade relations with Latin America are a strategic priority, as is updating trade agreements with the European Union and holding high-level dialogue with Asia-Pacific nations.
Before it's here, it's on the Bloomberg Terminal.
LEARN MORE