Merkel Says U.K. Must Observe Four Freedoms in EU Unity Call
by and
Otherwise U.K. will have to 'settle for less' than full access

German chancellor flags election-year themes in Cologne speech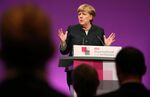 German Chancellor Angela Merkel demanded that the U.K. adhere to European Union rules on freedom of movement in return for market access as she called on EU member states to stand strong in the face of global challenges.
In her first policy speech of an election year, the German leader laid down her demands as U.K. Prime Minister Theresa May's government prepares the country's exit process, set to begin by the end of March. Aiming to maintain "good relations" with Britain doesn't mean caving in once Brexit talks get under way, Merkel said.
"We have to be clear on the other hand that joining or having access to the joint market can only be possible on the condition of conforming with the four freedoms," Merkel told a gathering of the DBB civil servants' union in Cologne on Monday. Otherwise, the U.K. will "have to settle for less."
Reiterating her warning not to allow "cherry picking" by the U.K., Merkel said anything other than full compliance with EU rules regarding access to its common market would have "fatal consequences" for the remaining 27 member states.
"We can't accept such consequences," Merkel said.
Merkel's pitch for European unity went beyond Brexit, with a reference to the incoming administration of President-elect Donald Trump and fraught relations with Russia as well as with China.
"We need to have joint positions on a range of issues, including trade, climate to domestic security," Merkel said. "Otherwise we'll split ourselves along the lines of 'divide and conquer', each one giving our own signals -- then Europe won't be able to develop its strength."
All euro-area countries need to do their part by sticking to fiscal and debt rules, Merkel said.
Belittling governments that press for keeping to the rules is "frivolous," she said, "considering our experience with financial markets ganging up against Europe and what sort of difficult effects that can have."
Sounding a theme that's likely to feature in her re-election campaign this year, Merkel also alluded to domestic anxiety three weeks after a terrorist attack on a Berlin Christmas market left 12 people dead. Germans must stand up for an open, liberal society, she said.
"Maybe it's once again time for us to clearly show where we stand," Merkel said. That means Germany needs to be an "open state" that makes it clear that "we live in freedom, not in a dictatorship."
Before it's here, it's on the Bloomberg Terminal.
LEARN MORE