Chevy Bolt Wins Top Car Award as GM's Plug-in of the Future
By and
Chrysler Pacifica minivan earns award in new category for SUVs

Honda Ridgeline takes home honors for truck of the year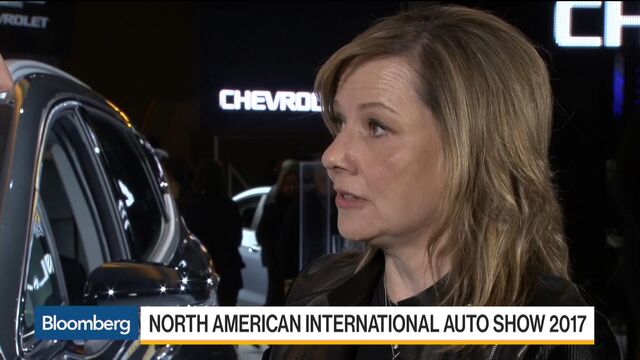 General Motors Co.'s Chevrolet Bolt won an award for North American car of the year after just one month of sales, a recognition of the automaker's ambitions to position the model as representative of an electrified and autonomous future.
In addition to the plug-in Bolt earning its accolades, recognition for the leading utility and truck models went to the Chrysler Pacifica and Honda Ridgeline during a ceremony Monday to open the North American International Auto Show in Detroit.

The Bolt's status as a bit player within GM's lineup with regard to sales targets belies its role as a centerpiece of the carmaker's technology development. Its battery enables about 238 miles (383 kilometers) of driving on a charge, well beyond the electric range of the plug-in hybrid Chevy Volt and setting a standard ahead of Tesla Motors Inc.'s planned introduction of its mass-market Model 3 late this year.
"What the jurors really told us is that it wasn't that we made a great electric car, we just made a great car," Pam Fletcher, GM's executive chief engineer for autonomous and electrified vehicles, told reporters Monday. "So, all the features and functionalities that people expect, and oh by the way it just happens to be the first affordable long-range battery electric car."
Bolt also is the car GM is using to test autonomous driving with its Cruise Automation unit in California. The Detroit-based giant wants to use its lone fully electric car to develop the technology and eventually use the model within a ride-hailing business. GM has agreements to supply conventional cars to Uber Technologies Inc. and Lyft Inc. and owns a 9 percent stake in the latter company.
Perhaps the biggest benefit GM gets from the Bolt -- especially if it sells well in California -- is that the car's zero-emission status lets GM sell plenty of its money-making gas guzzlers in the Golden State without the risk of paying fines. The automaker has targeted about 20,000 to 30,000 deliveries of Bolt per year -- just a sliver of the more than 3 million cars and trucks it sells in the U.S. annually.
The awards, selected by a committee of automotive journalists and often cited as a marketing boost by automakers who win, have been given out since 1994. The car finalists that finished behind Bolt were the Volvo S90 and Hyundai Motor Co.'s Genesis G90. The Nissan Titan and Ford F-Series Super Duty were runners-up for the truck honor, and the Jaguar F-Pace and Mazda CX-9 were finalists in the utility vehicle category.
Last year, Honda's Civic won the car award for a second time, and Volvo's XC 90 also took home its second truck award.