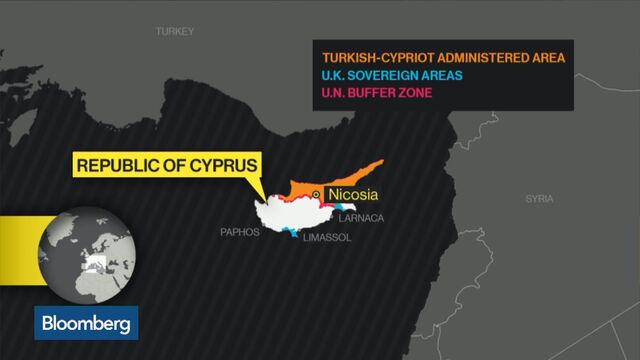 The latest talks to unify Cyprus come as key parties, including Turkey and the U.K., face existential issues at home. Still, the negotiations starting Jan. 9 in Geneva have some forces working in their favor, leading to optimism that 40 years of division might be coming to an end. The Mediterranean island -- less than half the size of New Jersey -- has been split along ethnic lines since 1974, when Turkey invaded to prevent its unification with Greece. It's divided into the Turkish Republic of Northern Cyprus and, in the south, the Republic of Cyprus. Only the south is internationally recognized.
1. What's different this time?
Political leaders say an accord has never been closer. Turkish President Recep Tayyip Erdogan will add his weight to the talks on Jan. 12, and he's expected to be joined by the Greek and British leaders. A deal on one of the world's toughest diplomatic challenges would be a last hurrah for U.S. President Barack Obama and give U.K. Prime Minister Theresa May some much-needed good news amid the domestic battles over Brexit. Turkey keeps about 35,000 troops on the island, while the U.K., which gave up Cyprus in 1960, still has military bases there.
2. What would reunification mean?
It would free up trade and investment in the area and have political and economic ramifications far beyond the island's shores. Because Cyprus is so close to the Turkish coast, a settlement would allow development and export of eastern Mediterranean oil and gas to Turkey and Europe via a pipeline from Cyprus. Since Greece and Turkey are both members of NATO, reunification would help to strengthen the organization in the Mediterranean as Russia expands its influence in the region through its support of Syrian President Bashar al-Assad. More than 10,500 Russians lived on Cyprus as of 2011, with many based in the southern city of Limassol. A United Nations-administered buffer zone divides the island.

3. What does Turkey want?
Erdogan has long insisted on formation of a federation in Cyprus under which Turkish Cypriots have equal rights and their safety is guaranteed by Turkey. He's unlikely to make concessions as he works to consolidate power at home in the wake of a failed coup attempt in July and the recent series of attacks by separatist Kurdish militants and Islamic State.
4. What are the main sticking points?
Land and property top the list. A big issue is how a new federal state would be divided between Greek-Cypriot and Turkish-Cypriot regions. Greek Cypriots want to regain control of areas in the north that they inhabited almost entirely before the 1974 division. Then there's the question of who has responsibility for guaranteeing the security of Greek-Cypriots and Turkish-Cypriots. The island has three so-called security guarantor powers: Greece, Turkey and the U.K. Greek Cypriots say that guarantor powers wouldn't be needed in a unified Cyprus that's a member of the European Union. Turkey wants to keep its guarantor status to safeguard Turkish Cypriots.
5. What property is in dispute?
Following the division of the island, as many as 150,000 Greek Cypriots living in the north were forced south, and about 50,000 Turkish Cypriots fled north. All had to leave behind personal property. Now both sides must agree on how, and how many, people should be allowed to reclaim their properties or be compensated for their loss. About 75 percent of the island's estimated 1.1 million people live in the south.
6. Why is Obama involved?
He's invested heavily into finding a solution to the long-frozen conflict. U.S. Vice President Joseph Biden and Secretary of State John Kerry both visited Cyprus to lend their support to unification. After the last round of talks broke down in November, Biden personally called Cyprus President Nicos Anastasiades and Turkish-Cypriot leader Mustafa Akinci to encourage them to return to the negotiating table. Reunification would be a coup for the Obama administration in its final weeks before Donald Trump takes over.
7. Why is the EU involved?
A solution to the Cypriot problem would remove a barrier to Turkey joining the EU and help set the tone for 2017 after a year when the continent's divisions were laid bare. Though Cyprus joined the bloc in 2004, benefits and obligations of membership apply only to the Republic of Cyprus in the south, not to what's considered a Turkish occupation in the north. Nicosia is the EU's only divided capital. Turkey doesn't recognize the Republic of Cyprus and has placed an embargo on Cypriot-flagged planes and ships from entering Turkish harbors and airports.
8. If a deal is reached in Geneva, what happens next?
Any agreement would need to be approved by citizens of both sides of Cyprus in separate votes. Cyprus came close to a settlement in 2004 just prior to joining the EU, with a UN blueprint for a bi-communal federation winning acceptance by Turkish Cypriots. But Greek Cypriots said no. The difference this time is that unity efforts have been led by the Cyprus leaders themselves. Still to be addressed, though, is how reunification would be financed.
9. What would it mean for regional security?
With the recent events in Turkey, the continued threat from the Islamic State, the six-year civil war in Syria and general instability in the eastern Mediterranean, a reunited Cyprus could be an island of stability in a turbulent region. The two British military bases on Cyprus sit inside U.K. sovereign territory, which accounts for 3 percent of the island's total land mass.
The Reference Shelf
Before it's here, it's on the Bloomberg Terminal.
LEARN MORE