Texas Republicans Meet With Taiwan Leader Over China Objections
By
Cruz, Abbott disclose Tsai discussions after visit in Houston

Talks follow Trump's protocol break in his post-election call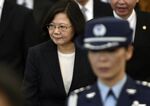 Taiwanese President Tsai Ing-wen met Sunday in Houston with U.S. Senator Ted Cruz and Texas Governor Greg Abbott, potentially adding to tensions with China after U.S. President-elect Donald Trump broke diplomatic protocol by speaking on the phone with her.
Cruz, one of Trump's strongest challengers for last year's Republican presidential nomination, said in a statement that he and Tsai "discussed our mutual opportunity to upgrade the stature of our bilateral relations in a wide-ranging discussion that addressed arms sales, diplomatic exchanges, and economic relations." Abbott, also a Republican, tweeted a photo of his meeting on Sunday, saying the session was to "discuss expanding trade and economic opportunities."

Texas has the second-largest U.S. economy behind California. Tsai's office earlier announced that she would stay for one night in Houston en route to a visit to several nations in Central America. She will also stop in San Francisco on Jan. 13 on the way back to Taiwan. China had also urged the U.S. to bar her from transiting in the country; Cruz said the Chinese consulate asked members of Congress to reject meeting with Tsai and to uphold the longstanding policy known as One-China.
Trump's call with Tsai following his November election win angered China and threatened to disrupt the U.S.'s decades-long recognition of the island as a part of China. Neither Trump nor members of his transition team are meeting with Tsai during her U.S. visit, media including the Associated Press reported Saturday.
"We will continue to meet with anyone, including the Taiwanese, as we see fit," Cruz said.
Since Trump's call, which was the highest-level interaction between leaders of the two governments in decades, China's government in Beijing has ratcheted up the pressure on Taiwan, setting up diplomatic relations with one of Taiwan's former allies and sailing its aircraft carrier around the island. Trump later linked the U.S.'s policy on Taiwan to getting a better trade deal with China.
Cruz also said that "furthering economic cooperation between our two nations must be a priority," adding that "access to Taiwanese markets will benefit Texas farmers, ranchers and small business owners alike."
Before it's here, it's on the Bloomberg Terminal.
LEARN MORE