Rouhani Loses Key Ally as Former Iran Leader Rafsanjani Dies
By and
Ayatollah was one of the founders of Iran's Islamic Republic

TV stations broadcast images of his life as mourning starts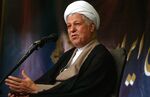 Ali Akbar Hashemi Rafsanjani, a co-founder of the Islamic Republic of Iran and a key ally of President Hassan Rouhani, has died from heart failure four months before the next presidential election. He was 82.
Rafsanjani, a former two-term president, died hours after being admitted to a Tehran hospital on Sunday, the official Islamic Republic News Agency reported. The country went into mourning as soon as his death was signaled by television channels showing images of him praying, and broadcasting his speeches and sermons.

His death removes from the political scene an influential supporter of moderate politicians against hardliners demanding a more aggressive policy against the U.S. after Donald Trump's election. At the time of his death, Rafsanjani was chairman of the Expediency Council, a consultative body tasked with resolving disputes between parliament and the Guardian Council, a watchdog agency.
Rafsanjani's death "could not have come at a worse time for moderate forces in Iran," said Trita Parsi, author of the forthcoming book "Losing an Enemy - Obama, Iran and the Triumph of Diplomacy," and president of the Washington-based National Iranian American Council.
Two Terms
Rafsanjani "played a critical role" in Hassan Rouhani's election as president in 2013, Parsi said in e-mailed comments. He "would likely also have played a very important role in not just the upcoming Iranian elections in May, but also in the far more crucial power struggle about who will become the next Supreme Leader in Iran once Ayatollah Ali Khamenei passes," he said. Khamenei, 77, wields the ultimate power in Iran.
Rafsanjani served two consecutive four-year terms as president from 1989 to 1997. He took over a year after the end of a devastating eight-year war, and much of his early tenure was spent directing the country's recovery. For his efforts, he was often referred to by his supporters as "Commander of Reconstruction." Others criticized him, though, citing alleged corruption during his presidency.
Rafsanjani was known as a pragmatic and savvy politician, adept at surviving the Islamic Republic's fractious politics. Yet he was sidelined during the 2005-2013 presidency of hard-line President Mahmoud Ahmadinejad, who rose to power prioritizing the poor but whose two terms are better known for increasing international tensions over Iran's nuclear program, tighter sanctions, and economic decline.
Rafsanjani's ideas, though, were resurrected when Hassan Rouhani was elected president in 2013 and began a policy of engagement with the U.S. and other world powers, culminating in the 2015 nuclear deal that lifted most sanctions on Iran. Rouhani is expected to seek re-election in May.
Critical Player
Sadegh Zibakalam, a Tehran-based Iranian political commentator, said he expects Rafsanjani's death to help rally his supporters behind the incumbent president.
"In the short-term the hardliners may feel victorious and happy about his death and the supporters of reform and moderation might have some difficulties, but I think they have become broader and more rooted," he said by phone.
Still, for those in the West hoping that Iran will move in a more moderate path, including collaboration with the West on key security issues, Rafsanjani's death will be a blow, Parsi said. "Despite his age, and despite his many political losses, he remained a critical player within the Iranian system, often using his influence to move Iran in a more moderate direction while mending fences with the West as well as with Iran's Arab neighbors."
"The soul of a giant of the revolution and politics, the embodiment of patience and perseverance, has ascended to heaven," Rouhani said in a Twitter posting after Rafsanjani's death was announced.
Indian Prime Minister Narendra Modi was among world leaders sending condolences.
Rafsanjani, one of nine children, was born in 1934 to a family of pistachio farmers. He was married to Efat Marashi; they had five children.
Before it's here, it's on the Bloomberg Terminal.
LEARN MORE