Koreans Feel the Pinch From Soaring Egg Prices
by
'There's a chance that we may go eggless' says consumer Jeon

Bird flu may push up egg prices by 110% in next six months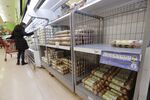 In a packed stall in one of Seoul's traditional eateries, patrons feast on egg-rich Korean pancakes washed down with beer. Despite the booming business, the owner of the restaurant, Kim Kang-ock, looks on in dismay.
"Soaring egg prices are driving me crazy as it's about to kill my business," the middle-aged South Korean street-food vendor says as she dips vegetables in yolk before frying them. "Look at my menu, almost everything here needs an egg...not only the pancakes but noodles as well. I can't run my business if I don't have eggs."
A few blocks down the road, 44-year-old Jeon Min-jeong stands in the middle of a discount supermarket, staring at a shelf stacked full of eggs while debating whether she can afford them. The housewife usually buys 150 eggs a week to feed her family of four, including a fitness-fanatic husband who relies on the protein-rich foodstuff. Now she fears an eggless Lunar New Year awaits them.
The two ladies are among millions of South Koreans reeling from the spread of bird flu, which has gripped the nation in its most serious outbreak. The country raised its threat level to its highest ever, and has culled more than 31 million birds in farms across the land, making it one of the worst affected in the world. As fear of consuming chickens sent the price slumping, the converse has happened to eggs, with costs expected to more than double in the first half of this year.

South Korea isn't alone in its suffering. Countries including Germany, France and Japan have also discovered cases of avian influenza, while China, which also reported an outbreak, halted poultry imports from bird-flu hit countries last month. But South Korea has felt the most damage from the H5N6 flu strain, with authorities culling about 17 percent of its national flock of chickens and 28 percent of ducks as of Jan. 8, compared with 0.3 percent of poultry in Japan.
"This is the first time we are dealing with the H5N6 virus and it's spreading extremely quickly," Ji Seon-u, a hens and eggs researcher at Korea Rural Economics Institute, said by phone. "The impact of avian influenza has never been this bad and with the Lunar New Year coming close, egg consumption will increase, which could further push up prices."
Used in traditional Korean dishes like Pajeon -- a pan fried egg-based pancake with scallions and green onions -- South Koreans are relatively big egg eaters, with about 250 eggs consumed per person in 2014, compared with 63 per capita in India and 150 in South Africa.
The average price of eggs sold by South Korean farmers soared 50 percent to 1,551 won ($1.30) for 10 standard-sized eggs in December from a year earlier, while the average retail price rose 21.4 percent to 2,207 won, according to the Korea Rural Economics Institute. Farm prices could surge as much as 110 percent in the first half of 2017 due to the shortage of hens, the researcher said. Meanwhile chickens, which the country typically consumes more of per capita than Japan and China, has fallen 8 percent in price in December from before the outbreak in October.
To ease the price hike, the government in Seoul has removed tariffs on 98,600 tons of imported eggs and egg products for the first half of this year. The nation plans to import the commodity from five countries, including the U.S., Australia and Spain, an official at the agriculture ministry, who asked not to be identified, said by phone.
But that may feel too late for eatery owner Kim, who says she hasn't passed on the egg-price increase to her customers for fear of losing business. What's more scary, she says, is the upcoming Lunar New Year on Jan. 27, a time when she can use as much as 1,800 eggs a day and is usually the peak of her pancake sales.
For high-egg consumer Jeon, the upcoming celebration is also causing anxiety.
"I am very worried about how we will survive the Lunar New Year because prices will probably remain high," said Jeon. "If the prices go even higher, there's a high chance that we may go eggless, which is a very odd thing for my household."
Before it's here, it's on the Bloomberg Terminal.
LEARN MORE