Treasuries Climb With Gold While U.S. Stocks Drop: Markets Wrap
By and
Haven assets stage comeback as energy shares lead retreat

Crude declines amid an uptick in U.S. drilling activity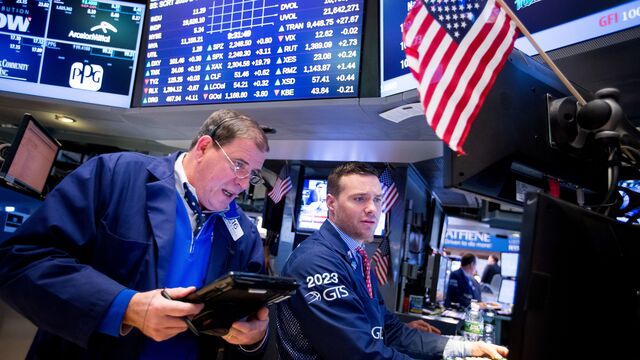 Treasuries rose with gold as an advance in riskier assets faltered amid uncertainty over the U.K.'s future trading role with Europe. Most U.S. stocks slumped as energy shares retreated with the price of crude oil.
The S&P 500 Index slipped from a record as the Dow Jones Industrial Average retreated below 19,900. Sterling fell to a 10-week low as angst over political risk rippled across foreign-exchange markets with the Turkish lira and South Korean won leading declines. Yields on 10-year Treasury notes slid below 2.40 percent, while gold racked up its first two-day advance since the U.S. presidential election. Oil fell for the first time in four days.

For the past month the Dow Average has failed to take on the 20,000-point milestone amid concern stocks rose too far too fast in the wake of Donald Trump's surprise presidential victory. Treasury yields are now below the level they were at before the Federal Reserve raised interest rates last month, while the dollar remains near a 14-year high. Elsewhere, currencies, not bonds, have become the preferred way for investors to express displeasure with political developments.
"After a solid first week of trading it's been a disappointing start to the week," said Michael Hewson, a markets analyst at CMC Markets in London. "Last week's optimism is giving way to a raft of profit taking."
Stocks
The S&P 500 Index fell 0.4 percent to 2,268.90 as of 4 p.m. in New York. The measure closed Friday at an all-time high, capping a 6.4 percent advance since Trump's election.
The Dow Average slipped by 76 points to 19,887.38. It's been stuck in a 250 point range for the past month. 
The Nasdaq 100 Index advanced 0.2 percent amid health-care deals.
The Stoxx Europe 600 Index fell 0.5 percent Monday, its biggest decline in almost a month.
Shares of Cambridge, Massachusetts-based Ariad Pharmaceuticals Inc. were halted before Osaka-based Takeda Pharmaceutical Co. announced a $4.66 billion takeover. In other buyouts, UnitedHealth Group Inc. agreed to buy Surgical Care Affiliates Inc. for about $2.3 billion in cash and stock.
Asian index futures largely signaled losses, with yen-denominated contracts on Japan's Nikkei 225 Stock Average down 0.8 percent in Chicago.
Currencies
The pound weakened 1 percent to $1.2160, after earlier dropping as much as 1.3 percent to its lowest level since Oct. 28.
U.K. Prime Minister Theresa May said Sunday that negotiations on Brexit will be about "getting the right relationship, not about keeping bits of membership." A so-called hard Brexit may push the Bank of England to keep rates lower for longer, while weakening the pound and supporting foreign-focused companies in the main stock index.
The MSCI Emerging Markets Currency Index lost 0.2 percent as the lira fell 1.8 percent and the won slid 1.3 percent.
The Bloomberg Dollar Spot Index dropped 0.1 percent, leaving it down almost 1 percent since touching a 14-year high on Jan. 3.
The yen gained 0.8 percent to 116.06 per dollar amid the bout of risk aversion.
Commodities
West Texas Intermediate crude dropped 3.8 percent to $51.96 a barrel, ending its advance below $54 as an increase in U.S. drilling offset signs that OPEC members are sticking to planned output cuts.
Gold futures rose 1 percent to $1,184.90 an ounce with demand forecast to rise ahead of Chinese New Year.
Holdings in exchange-traded funds backed by the metal rose for a second day on Friday, the first back-to-back increase since Nov. 9.
Copper for delivery in three months was little changed at $5,591 a ton on the London Metal Exchange.
Bonds
Yields on 10-year Treasury notes fell five basis points, or 0.05 percentage point, to 2.37 percent.
Spanish and Portuguese bonds led gains in Europe. Spain's 10-year yield fell seven basis points to 1.46 percent, while that on similar-maturity Portuguese debt fell eight basis points to 3.93 percent.
U.K. notes climbed, with 10-year yields falling five basis points to 1.32 percent.
— With assistance by Natasha Doff, Neil Denslow, Amanda Jordan, Stephen Kirkland, David Goodman, and Todd White
Before it's here, it's on the Bloomberg Terminal.
LEARN MORE