politics
Trump's EPA Pick Steps Down From Group That Battled the Agency
By
Scott Pruitt resigned as chairman of Rule of Law Defense Fund

Senate Democrats are seeking more information on the group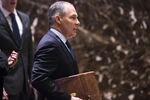 President-elect Donald Trump's pick to run the Environmental Protection Agency has resigned as chairman of a group critics say has helped attack the agency he's been tapped to lead.
Scott Pruitt stepped down as chairman of the Washington-based Rule of Law Defense Fund in November, weeks before his selection by Trump to head the EPA was announced, and resigned as a board member in December, according to a financial disclosure report filed with the Office of Government Ethics and obtained by Bloomberg News.
The group, an arm of the Republican Attorneys General Association, describes itself as a "public policy organization." It received funding from Freedom Partners, a political group tied to billionaire, free-market advocates Charles Koch and David Koch.
Charles Spies, who serves as counsel for the fund, said in an interview the group was a "non-profit education organization that facilitates study and discussion among attorney's general on a wide range of policy issues related to the rule of law."
The Rule of Law Defense Fund has been critical of the Clean Power Plan, the EPA regulation under President Barack Obama aimed at slashing greenhouse gas emissions, and other Obama-era EPA initiatives.
'Ties to Polluters'
"Pruitt has overseen the growth of an organization that the country knows surprisingly little about, and that is clearly intentional," Nick Surgey, director of research at the Center for Media and Democracy, said in an e-mail. "Pruitt's close ties to polluters, with a stake in stalling action to reduce our reliance on fossil fuels, is extremely concerning."
A spokesman for the Trump transition team didn't immediately respond to a request for comment.
Environmental groups oppose a number of Trump's picks but are most vocal in opposing Pruitt because of his repeated attacks on the very agency he's being tapped to lead. Pruitt is one of eight Trump nominees that Senate Democratic leader Chuck Schumer of New York has singled out for extra scrutiny.
Read more: Eight Trump Cabinet Nominees Schumer Considers Troublesome
Pruitt, 48, was elected as Oklahoma's attorney general in 2010. Pruitt proudly wears his label as a chief antagonist of the EPA; a biography on his official website describes the attorney general as "a leading advocate against the EPA's activist agenda."
'Grave Concerns'
"For too long, the Environmental Protection Agency has spent taxpayer dollars on an out-of-control anti-energy agenda that has destroyed millions of jobs, while also undermining our incredible farmers and many other businesses and industries at every turn," Trump said in a statement announcing Pruitt's selection in December. "My administration strongly believes in environmental protection, and Scott Pruitt will be a powerful advocate for that mission while promoting jobs, safety and opportunity."
Pruitt's financial disclosure form showed he makes $265,650 a year as from the State of Oklahoma, and has less than $1 million in assets. His home mortgage is $500,000 to $1 million, according to the form, which lists such data in ranges.
Delaware Senator Tom Carper, the top Democrat on the Environmental and Public Works committee, said Thursday after meeting with Pruitt that he has "grave concerns that must be addressed" about Trump's choice to lead the cabinet agency charged with enforcing the nation's environmental laws.
Five of the committee's Democrats, along with Bernie Sanders, a Vermont independent who caucuses with Democrats and sits on the panel, sent a letter to Pruitt in which they referred to the Rule of Law fund as a "secretive group coordinating EPA challenges."
"The Fund's activities, and your relationship to it, also require a full examination during your confirmation process," they wrote. "Before the Senate votes to confirm you to run EPA, it is important that you provide a full disclosure of your relationship with the energy industry so we can determine how that will influence your ability to run the agency."
Before it's here, it's on the Bloomberg Terminal.
LEARN MORE