GOP Should 'Show Their Cards' on Obamacare Redo, Obama Says
By , , and
Outgoing president speaks with Vox in webcast interview

If a better plan is out there, 'I'm for it,' Obama says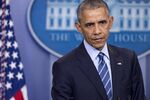 Republicans should "show their cards" with a better Obamacare replacement before taking steps to repeal the law, President Barack Obama said in an interview on his signature health program.
"Republicans have to go ahead and show their cards, if in fact they have a program that would genuinely work better," he said Friday in a webcast interview with the online news outlet Vox in Washington. "If it works, I'm for it." 
Obama has been defending his 2010 health law as Republican lawmakers begin efforts to repeal it to fulfill a key campaign promise of President-elect Donald Trump. Republicans have focused on abolishing the law immediately and devising a replacement plan later, a strategy Obama has called irresponsible. 
"I am saying to every Republican right now, if you in fact can put a plan together than is demonstrably better than what Obamacare is doing, I will publicly support repealing Obamacare and replacing it with your plan, but I want to see it first," he said.
Split Views
About 20 million people have gained insurance coverage under the Affordable Care Act, or Obamacare, helping push the U.S. uninsured rate to a record low, according to the administration. The law expanded the Medicaid program to more low-income people and created new markets for individuals to buy coverage, often with government subsidies. It also let children stay on their parents' plans until age 26.
Still, Americans' views on the health law are split. Forty-seven percent say lawmakers shouldn't repeal it, while 49 percent say they should, the Kaiser Family Foundation found in a poll released Friday. Just 2 in 10 people support repealing the law without a replacement program.
Republicans have criticized Obamacare for its climbing premiums and high out-of-pocket costs that can make it difficult for individuals to afford care. Requirements that all people have insurance and that large employers offer it to full-time workers have also come under fire.
Replacement Plans
"Why wouldn't they want to say, 'Here's our plan," and show why the plan is better, Obama said. "What is it that they're afraid of?"
GOP lawmakers have said they have replacement plans, including from House Speaker Paul Ryan and from Georgia Representative Tom Price, who's been named by Trump to lead the Department of Health and Human Services.
Democrats have also emphasized broader changes that Obamacare made to health insurance. The law prohibits insurers from denying coverage to sick people or charging them more. It also removed annual and lifetime limits on how much care insurers would cover. Trump has said he wants to preserve some of these popular features of the law.
Trump, on Twitter, has warned his fellow Republicans about their approach to Obamacare, and said they should make sure Democrats take the blame for high premiums.
"Republicans must be careful in that the Dems own the failed ObamaCare disaster," Trump tweeted Wednesday. "It will fall of its own weight - be careful!"
Before it's here, it's on the Bloomberg Terminal.
LEARN MORE