Wartime Sex Slave Dispute Resurfaces to Rattle Japan-Korea Ties
By
Japan suspends forex talks, temporarily recalls ambassador

Allies of U.S. continue to cooperate on North Korea threat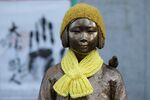 Just an hour after Japan's first cabinet meeting of the year, the nation's top government spokesman surprised reporters by firing a diplomatic salvo at South Korea over a longstanding historical dispute that the two U.S. allies had sought to bury only a year ago.
Chief Cabinet Secretary Yoshihide Suga said Tokyo had suspended talks with Seoul over a foreign currency swap arrangement; temporarily recalled Japan's ambassador to South Korea; and halted high-level economic talks between the two nations.
The moves were made to protest the installation of a statue symbolizing so-called comfort women near the Japanese consulate in the South Korean port city of Busan. While neither side needs the currency safety net right now, Japan's actions are a reminder of how the legacy of its colonial occupation of the Korean peninsula from 1910 to 1945 can still weigh on economic and diplomatic relations between the neighbors.
Just over a year ago, the two nations appeared to have settled the dispute over women coerced into Japanese military brothels before and during World War II. Japanese Prime Minister Shinzo Abe made a landmark apology, and his government agreed with South Korean President Park Geun-hye's administration to provide 1 billion yen ($8.6 million) to a fund for compensating victims.
Leadership Vacuum
But South Korea's refusal to remove a separate statue in front of the Japanese embassy in Seoul put the implementation of the agreement in jeopardy. Indeed, the statue in Busan was installed by activists protesting the 2015 deal, and the majority of South Koreans are also against it.
Historians say anywhere from 50,000 to 200,000 women -- many of them Korean -- served in Japan's military brothels across Asia. Japan apologized in 1993 and set up a compensation fund that was rejected by some victims because it was privately funded.
Now the impeachment of Park over an influence-peddling scandal has effectively undermined the deal, according to Jeff Kingston, director of Asian studies at Temple University's Japan campus.
"Park is toast in South Korean politics, so agreements made with her are probably not worth the paper they're printed on," Kingston said. "In South Korea this will play out as Tokyo taking advantage of us again when we are down. Here we have a vacuum in leadership and Tokyo's suddenly doing this rather harsh reaction."
For more on why Park was impeached, click here
In a phone call with U.S. Vice President Joe Biden, Abe said it was important for both governments to carry out the agreement, according to a statement released Friday by Japan's foreign ministry. Japan had previously called for the statue installed last month in Busan to be removed, saying it goes against the spirit of the agreement.
"This is extremely regrettable," Suga said. "This will have a negative effect on bilateral relations." Separately, Finance Minister Taro Aso said any swap agreement must be built on mutual trust.
Japanese politicians have also made antagonistic moves recently. Defense Minister Tomomi Inada last week visited a Tokyo shrine seen by South Korea and China in particular as a symbol of her nation's wartime atrocities. South Korea's defense ministry said the move "embellishes" Japan's aggression in the past and its colonization of Korea.
South Korean Deputy Finance Minister Song In-chang said by phone on Friday that he hoped Japan would maintain the principle of separating politics and economics.
Swap Deal
In August last year, South Korea proposed the re-establishment of a swap deal that expired in early 2015, with the Seoul Economic Daily reporting that it could be worth more than $50 billion.
Some members of Abe's ruling Liberal Democratic Party have sought to make any such deal conditional on removing the statue in Seoul. Aso said in December that there was no way to negotiate a deal because of the scandal that led to Park's impeachment.
Chang Jae-chul, an economist for Citibank Korea Inc. in Seoul, said that additional swaps would be good for Korea but not vital right now considering the nation's foreign currency reserves and the fact that external balances have improved since the global financial crisis.
Despite the setback, both nations are still cooperating on North Korea. Deputy foreign ministers of Japan and South Korea agreed to keep up pressure on Pyongyang's nuclear and missile programs during a meeting with U.S. counterpart Antony Blinken in Washington on Thursday.
— With assistance by Sam Kim, Jaehyun Eom, and Jiyeun Lee
Before it's here, it's on the Bloomberg Terminal.
LEARN MORE