EasyJet Slips Off Pace Set by Ryanair on Terror, Brexit Squeeze
By
Passenger count gained 6.6% in 2016, versus 15% at Irish rival

December numbers show stronger growth, seat-occupancy levels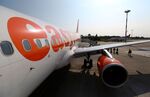 EasyJet Plc's passenger count increased at less than half the pace of its low-cost rivals last year as Europe's second-biggest discount carrier struggled with its exposure to the British and French travel markets.
Customer numbers increased 6.6 percent to 74.4 million in 2016, Luton, England-based EasyJet said Friday. That compares with a 15 percent gain at low-cost leader Ryanair Holdings Plc and advances of 19 percent and 14 percent at Wizz Air Holdings and Norwegian Air Shuttle ASA respectively.
EasyJet is more exposed than its no-frills rivals both to the U.K., where a weakening of the pound tied to the June 23 Brexit vote has reduced the spending power of holidaying Britons, and France, which has seen demand for flights hurt by a spate of terrorist attacks spanning Paris to the Mediterranean.
While EasyJet posted a 15 percent gain in December passengers to 5.58 million, accompanied by a 3.3 percentage point improvement in seat occupancy, that comparison is with a year-earlier period when travel ebbed in the wake of the November 2015 Bataclan massacre in the French capital. For the full year, EasyJet's load factor declined 0.1 of a percentage point to 91.5 percent.
"While December marks an improvement, the sustainability of this improvement into 2017 remains uncertain," Goodbody analysts Mark Simpson and Jack Diskin said in an investor note, adding that gains over the next three months are required to indicate a real advance in underlying performance.
EasyJet now lags almost 43 million passengers behind Ryanair, which attracted 117 million in 2016, a figure that's set to give the Irish operator the biggest annual tally of any in the region, ahead of Deutsche Lufthansa AG, which reports numbers next week.
Still, the U.K. carrier's total is still more than double that of Europe's other low-cost specialists, with Norwegian luring 29.3 million customers last year and Wizz 23 million. Air Berlin Plc saw its count drop 4.4 percent to 28.9 million, squeezed by no-frills rivals and Lufthansa.
Discount airlines are piling on passengers using bargain-basement pricing even as a sluggish economy and the threat of terror attacks clips demand. Network operators Lufthansa, Air France-KLM Group and British Airways owner IAG SA have responded by establishing discount units of their own, and will report figures next week.
EasyJet shares traded 0.9 percent higher at 1,065 pence as of 10:28 a.m. in London. They fell 42 percent in 2016, compared with declines of 3.4 percent at Ryanair and 11 percent at Norwegian.
Before it's here, it's on the Bloomberg Terminal.
LEARN MORE