Sears to Sell Craftsman, Shut 150 Stores as Lampert Raises Cash
By and
Deal marks retailer's third fundraising move in past two weeks

Department-store chain will continue to sell iconic tool line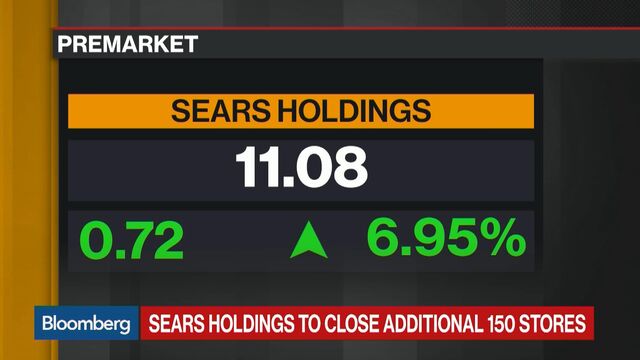 Sears Holdings Corp. agreed to sell its Craftsman tool brand to Stanley Black & Decker Inc. for about $900 million, marking Chief Executive Officer Edward Lampert's third move in the last two weeks to prop up the beleaguered retailer with fresh sources of funding.
Stanley will pay $525 million at closing and $250 million after three years, the companies said in a statement Thursday. The buyer also will make annual payments on new Craftsman sales for 15 years.
With Sears's department-store business continuing to bleed cash, Lampert has turned to selling and spinning off assets to keep the company operating. The hedge fund manager, who also is the retailer's chairman and largest investor, agreed earlier this week to lend the company $500 million and said last month that affiliates of his firm would offer it a $200 million letter of credit. Sears also has been reviewing its DieHard batteries and Kenmore appliance brands for potential sales.
The Craftsman sale is "another piece of the puzzle of trying to cobble together enough liquidity to navigate '17," said Noel Hebert, an analyst at Bloomberg Intelligence. "But the more you sell to fund losses, the less there is to sell." 
Hebert also said the price Sears sold the unit for was "disappointing."
Separately, Sears said it's closing 150 more stores, part of a program to shrink the retailer's physical presence to stem its continued losses. The company posted another grim sales report Thursday, with comparable-store sales declining 12 percent to 13 percent during the holiday period.
"We will continue to take actions to adjust our capital structure, meet our financial obligations and manage our business to better position Sears Holdings to create long-term value," Lampert said in Thursday's statement.
Investors cheered the moves, sending Sears up as much as 8 percent to $11.19 in New York. The stock had slumped 55 percent last year as the company continued to post losses. Shares of New Britain, Connecticut-based Stanley advanced as much as 3.6 percent to $120.69.
Iconic Brand
Craftsman has been part of Sears since 1927, when the retailer acquired the brand for $500. The tools debuted in the iconic Sears catalog two years later. By the 1940s, the brand benefited from a surge in power-tool sales. In 1981, President Jimmy Carter was given a Craftsmen woodworking set as his farewell gift when he left the White House.
"Craftsman obviously has been somewhat challenged under Sears and arguably hasn't achieved its full potential," Justin Bergner, an analyst at Gabelli & Co., said in an interview.
The brand "does have good recognition," especially among older consumers, he said.
Craftsman was eventually offered through other retailers, including Costco Wholesale Corp. and Ace Hardware, but Sears's decline has taken a toll on the brand. Only about 10 percent of Craftsman-branded products are currently sold outside of Sears, and the agreement allows Stanley to increase Craftsman sales in these untapped channels. Sears will continue to carry Craftsman products at its stores. The license will be royalty-free for 15 years, and then generate 3 percent afterward.
"To accommodate the future growth of Craftsman, we intend to expand our manufacturing footprint in the U.S.," Stanley CEO James M. Loree said in the statement. "This will add jobs in the U.S., where we have increased our manufacturing headcount by 40 percent in the past three years." 
U.S. Manufacturing
The pledge to support U.S. manufacturing comes as President-elect Donald Trump has criticized companies for shifting jobs overseas. Ford Motor Co. canceled a $1.6 billion Mexican expansion earlier this week, saying it would add positions in Michigan instead.
The Craftsman deal comes about three months after Stanley agreed to buy Newell Brands Inc.'s tools business for $1.95 billion, adding lines such as Irwin and Lenox to its lineup. Stanley said at the time that it would continue to look for acquisitions after ending a self-imposed, multiyear moratorium on deals. Bloomberg reported in October that Stanley was interested in Craftsman, which Sears had said was up for sale.
The jump in market share with the two acquisitions means regulatory approval for the Craftsman deal is "not a slam dunk," Bergner said.
Stanley traces its roots to the 19th century, when Frederick Stanley opened a shop selling bolts and related hardware. The company grew through a series of acquisitions, and the current company was formed from the 2010 merger between Stanley Works and Black & Decker.
Generating Cash
For Hoffman Estates, Illinois-based Sears, the sale is the latest in a long string of moves designed to generate cash for the ailing retail business. Lampert has spun off the Sears Hometown & Outlet business and Lands' End clothing line, and the company raised $2.5 billion in 2015 by forming a real estate investment trust that bought more than 250 of its properties.
And more property sales may be coming. This week's $500 million loan was secured by the company's real estate in anticipation that a future sale of some properties could help pay back the debt.
The retailer also has been closing poor-performing locations, an effort it continued with Thursday's announcement. The company said it will shut 109 Kmart and 41 Sears stores, and it reiterated its intention to squeeze more money out of its real estate.
Still, challenges remain. Sears needs to raise a total of roughly $1.5 billion to make it through 2017 comfortably, Christina Boni, an analyst at Moody's Investors Service, has estimated.
Sears could use the proceeds from the Craftsman divestiture to help defray its pension obligation, which is underfunded by about $2 billion, said Matt McGinley, an analyst at Evercore ISI. In the long run, the cash isn't likely to change the company's course, he said.
"I don't think there is any viable path to any sort of profitability," McGinley said.
— With assistance by Craig Giammona
Before it's here, it's on the Bloomberg Terminal.
LEARN MORE