Senate Democrats Want Probe of HHS Nominee Price's Stock Trades
By
Report said health bills he championed aided portfolio

They seek probe by House ethics office GOP attempted to limit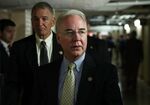 Senate Democrats called for a delay in confirmation hearings for Representative Tom Price, Donald Trump's pick to be secretary of Health and Human Services, for an investigation of his trades in health-care stocks while handling legislation that could affect the shares.
"He did this repeatedly and in such large numbers he's likely to have made tens of thousands of dollars in one trade alone," Senate Minority Leader Chuck Schumer, a New York Democrat, said at a news conference.
Schumer pointed to a complaint filed Thursday by the watchdog group Public Citizen. It asked the House Office of Congressional Ethics and the U.S. Securities and Exchange Commission to examine whether Price and another lawmaker who made health-related stock trades, Representative Chris Collins of New York, violated a 2012 statute applying insider-trading laws to members of Congress.
The group said Price was chairman of the House Budget Committee and the Ways and Means panel's health-care subcommittee while he made about 630 trades in approximately 40 companies including Pfizer Inc. and Eli Lilly and Co. for four years beginning in 2012.
The call for an investigation comes two days after House Republicans tried to weaken the ethics office by placing it under the auspices of the lawmaker-controlled House Ethics Committee. They abandoned that effort after a public backlash and criticism from Trump.
Trump transition spokesman Phil Blando accused Schumer of hypocrisy in a statement that said several Democratic senators also have made extensive trades in pharmaceutical and health-insurance company stocks. "Dr. Price's 20-year career as an orthopedic surgeon and a fiscal conservative make him uniquely qualified to lead HHS," Blando said.
Speedy Confirmation
While many Democrats say they have concerns about Price, including his past calls for cuts to Medicare and Medicaid spending, Senate Majority Leader Mitch McConnell called Thursday for Price's speedy confirmation so he can get to work on replacing Obamacare.
Senator Ron Wyden, the top Democrat on the committee that will consider Price's nomination, said Thursday he shares Schumer's concerns about the stock trades.
"There is enough here that if you're serious about oversight, you can't just say it's all a coincidence and then move on," Wyden said.
Senator Patty Murray, the No. 3 Democratic leader and the ranking member on the Senate health panel, said Democrats want to know whether Price or a broker directed his trades. They also want to know who he met with while sponsoring or cosponsoring bills, including a recently enacted measure overhauling the Food and Drug Administration's process for approving medicines and devices.
The Senate Finance Committee hasn't scheduled a date for Price's confirmation hearing. The Health, Education, Labor and Pensions panel has tentatively planned a hearing with Price for Jan. 18, though that committee doesn't vote on his nomination.
— With assistance by Anna Edney
Before it's here, it's on the Bloomberg Terminal.
LEARN MORE