Boeing, Airbus Brace for Slowdown as Jet-Buying Binge Nears End
by
Lower fuel costs leave little need to replace old aircraft

Planemakers probably will show orders fell short of deliveries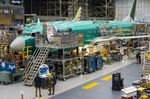 The unprecedented jetliner shopping spree that's spanned more than a decade is drawing to a close. 
That's bad news for Boeing Co. and Airbus Group SE, which face slowing jet sales and the highest level of airplane-delivery deferrals in at least 15 years. Final 2016 tallies to be unveiled over the next few days will probably show aircraft orders trailing shipments, a sign of a weakening market. Airline profits are poised to fall from last year's peak, with even Persian Gulf juggernauts Emirates and Etihad Airways PJSC tempering growth.
Unlike past retrenchments triggered by terrorism or recession, demand has also been hurt by the relatively low cost of fuel. While oil has risen in the past year, prices are hovering at about $50 a barrel, half of what they were in mid-2014. That gives airlines less incentive to retire older jetliners or order newer, more efficient models.

The glut of jets is sapping interest in wide-body planes and threatening production increases that Boeing and Airbus have plotted over the next two years for the lucrative 737 and A320 families of single-aisle aircraft. With last week's revelation that Emirates is postponing a dozen Airbus A380 superjumbos, the total number of delivery delays for the year reached 251, the most since at least 2001, according to Flight Fleets Analyzer data compiled by Bloomberg Intelligence.
"It's not that the sky is falling, but we are definitely late in the cycle," said Ron Epstein, an analyst at Bank of America Corp.
Brakes On
So far, planemakers have been able to find other takers for production slots that have been vacated as carriers such as United Continental Holdings Inc. and Southwest Airlines Co. postpone deliveries and scan the secondary market for bargains.
"The real question becomes how long are they able to do that for," Epstein said during a presentation last month.
Nobody knows how steep the downturn will be or how long it will last, and the trade war with China threatened by President-elect Donald Trump only adds to the uncertainty. In contrast to previous slowdowns, global air travel is still growing and airlines are mostly making money, providing assurance they'll follow through on the bulk of their orders.
Airbus and Boeing are sitting on a near-record $1.2 trillion order backlog, and to some extent are victims of their own success. Airlines aren't racing to close deals for jetliner models that are sold out for the rest of the decade, such as Airbus's A350 and Boeing's 787 Dreamliner. As the second-largest U.S. defense contractor, Chicago-based Boeing has an added cushion: Weapons sales seem likely to increase because Trump has vowed to boost military budgets, even as he's railed against costs.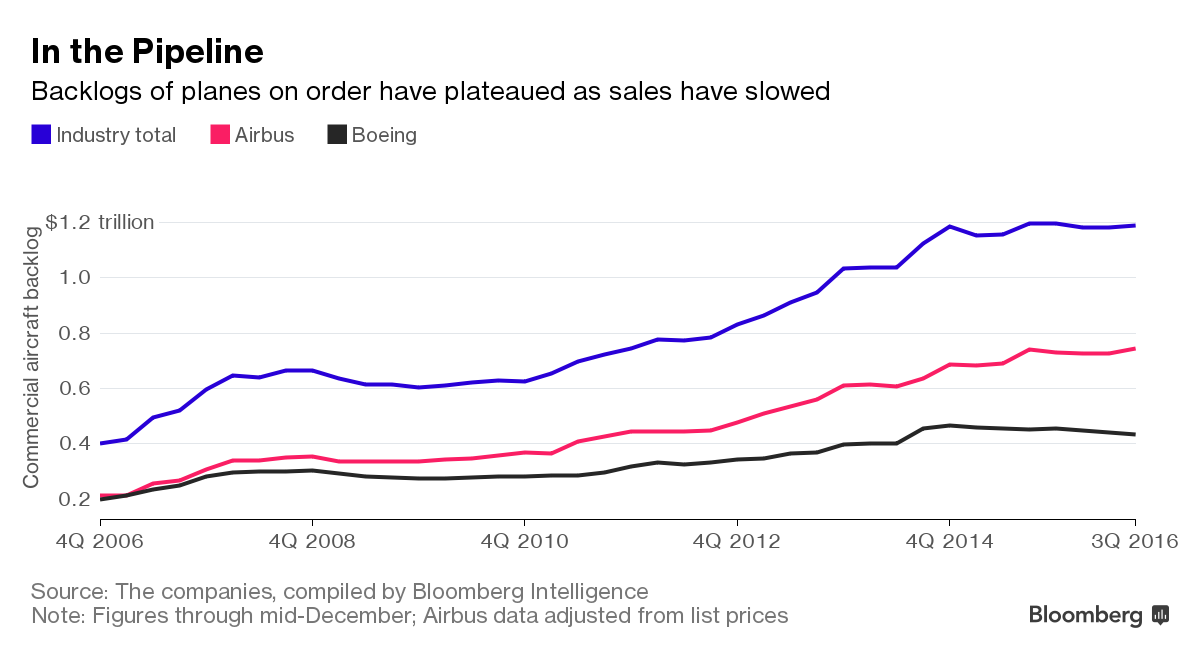 There are signs, however, that the aerospace cycle has peaked. Global airline profit this year is forecast to fall 16 percent to $29.8 billion from 2016's apex, according to the International Air Transport Association, an industry trade group. Another indicator of the aircraft manufacturing's health, a measure of sales to shipments known as the book-to-bill ratio, is expected fall to the weakest level since the 2009 recession, according to Bloomberg Intelligence.
Boeing had netted 470 orders through Dec. 20, well short of its targeted deliveries of 740 to 745 planes for the year. Airbus reported 410 net orders through November. The European planemaker had been aiming to deliver 670 jetliners in 2016, 20 more than it forecast at the start of the year. The annual totals don't include sales to Iran or deals closed late in December, including an order for 75 Boeing 737 Max placed by General Electric Co.'s aircraft leasing division.
Spokesmen for Boeing and Airbus declined to comment.
Airbus shares gained only 1.4 percent last year after surging 50 percent in 2015. Boeing climbed 7.7 percent, trailing the S&P 500 Index. The outlook for Boeing investors this year is worse, with a potential return of 0.4 percent based on the average 12-month target price of 26 analyst estimates compiled by Bloomberg. By the same yardstick, Airbus is poised for a 3.6 percent increase.
Twin-Aisle Glut
The market is also absorbing a glut of twin-aisle jets after output increased at a 16 percent annual pace from 2011 through 2015, said Richard Aboulafia, an aerospace analyst at Teal Group. Last month, Boeing announced a second cut in the production rate of its 777 jetliner amid a sales drought, while Airbus's A330neo orders have stalled, he said.
About 18,070 passenger planes were in service as of November, a 41 percent jump from 2007, according to a Dec. 19 report by Deutsche Bank AG. Only 6.6 percent of the global fleet was stored, down from 8.3 percent in November 2007.
"It's different manifestations of the same problem," Aboulafia said. "With twin-aisles, it's demand. With single-aisles, it's fuel."
There are other indications that the market is saturated: Lease rates peaked in 2015, while aircraft values have retreated since January 2016, said George Dimitroff, head of valuations for Flight Ascend Consultancy. Even prices for in-demand narrow-bodies like Boeing's 737 and Airbus's A320 could be at risk over the next three years if the planemakers follow through on plans to increase output 36 percent.
"Our analysis shows capacity growth will be too high with production rates increasing and retirements remaining low, so something has to give," Dimitroff said. "Unless we see global air-travel growth above 7 percent over the next few years, it's difficult to see how all that additional capacity on the market will be filled."
Rising interest rates and the strong U.S. dollar -- the currency used for aircraft deals -- also threaten aircraft orders, Ken Herbert, an aerospace analyst with Canaccord Genuity, said in a report Thursday.
The "backlog today is more concentrated in emerging markets, notably Asia, than at any prior time or cycle," Herbert said. "The increased exposure to Asia and the capacity growth assumptions upon which fleet plans are currently based do represent a significant risk we are watching heading into 2017."
Before it's here, it's on the Bloomberg Terminal.
LEARN MORE