GOP Won't Say If People Will Lose Insurance in Obamacare Repeal
By
Congress Republicans on potential collision course with Trump

Trump says people should keep insurance in replacement plan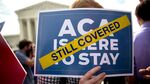 Top Republicans in Congress are refusing to promise that their plans to replace Obamacare won't result in more uninsured Americans, putting them on a possible collision course with President-elect Donald Trump.
"Look, I'm not going to get ahead of our committee process," House Speaker Paul Ryan told reporters Thursday when asked if he can guarantee a GOP replacement would cover as many people as the Affordable Care Act. "We're just beginning to put this together."
House Majority Leader Kevin McCarthy was also reluctant to make that commitment when asked on Tuesday, saying, "There's a lot of areas that you want to look at."
Congress's official scorekeeper estimated in 2015 that repealing Obamacare would strip insurance from about 19 million people in one year. Republicans lack consensus on a replacement plan, but the ideas offered so far provide much less financial aid to purchase coverage and are likely to lead to more uninsured people, as current and former Republican aides who work on health-care policy privately admit.
That contradicts Trump's assurances during the campaign that he won't throw people off health-insurance coverage. "Where I may be different than other people — I want to take care of everybody," he told CNN in July 2015.
This week his transition team repeated that promise. Asked Tuesday on MSNBC if Trump wants an Obamacare replacement that ensures nobody loses coverage, Trump senior adviser Kellyanne Conway said, "Yes, that is correct. We don't want anyone who currently has insurance to not have insurance."
Trump and Republicans agree in principle on the need to "repeal and replace" Obamacare, but translating broad ideas to legislation presents land mines — namely how to cover the estimated 20 million people the government says gained coverage under President Barack Obama's signature domestic achievement.
QuickTake Q&A: Why Repealing Obamacare Is Harder Than It Sounds
"The goal is to get everybody who has insurance — and more — insured. So this is still very much in a state of flux and development. But that's my goal," said Republican Senator Shelley Moore Capito of West Virginia.
Representative Chris Collins of New York, one of Trump's early backers in Congress, acknowledged there's risk in replacing the health-care law.
"And it's not even just a matter of political risk, it's a matter of responsibility, quite honestly," he said. "And we have a responsibility to have a transition that is respectful of the fact that there's been this other law for all these years."
Some Republicans are trying to refocus the debate on lowering costs and expanding choice -- arguments they think they can win -- amid concern about the political dangers of throwing people off their coverage.
"I've stopped underestimating our ability to screw up good things," said Representative Kevin Cramer, a North Dakota Republican who expressed optimism about repealing the law but was circumspect on replacing it.
"We've never been able to settle on one bill over all these years," Cramer said. He signaled that Republicans will look to Trump to help close the deal: "Having a president in the party helps a lot."
Medicaid Expansion
Senator John Barrasso of Wyoming, the fourth-ranking Republican, cast doubt on the Obama administration's 20 million coverage figure, arguing that "many of the people that have been covered got it through Medicaid" and that some were eligible before Obamacare's Medicaid expansion took effect but didn't sign up.
Democrats are dead-set against Republican efforts to undo Obamacare and are warning voters about the prospect of losing coverage. Democrats voted unanimously against the Senate budget resolution to kick off the process on Wednesday.
Even conservative Democrats like Senator Joe Manchin of West Virginia, who faces re-election in 2018 in a state Trump won by 42 points, says he won't play along with Republicans until they find a way to help people get covered.
"Who's going to tell the people that they just missed the cut?" Manchin said. "I haven't seen anything" from Republicans, he said. "I'm not opposed to replacing and repairing and repealing parts and fixing it, but I'm not going to vote to throw something out until I can replace it with something."
'Typical Political Thing'
In a series of tweets Thursday, Trump demanded that Democrats not do the "typical political thing and BLAME" Republicans on health care, and instead work with them to fix the system, insisting they "know how bad ObamaCare is."
The target of his attack, Senate Democratic leader Chuck Schumer of New York, fired back in a statement: "People's lives are at stake. Now, we understand that President-elect Trump is in a difficult spot — that Republicans are in a difficult spot. They want to repeal ACA and have no idea how to replace it."
Senator Dean Heller, a Nevada Republican up for re-election in 2018, declined to say whether he believes the GOP plan will cover as many people as Obamacare.
"I would anticipate nobody's going to lose their health care for the next two or three years until the replacement is put in place. I think that's pretty fair," he said.
And after two or three years?
"That's a lot of prospective thinking," Heller said. "You can ask me in two or three years."
Before it's here, it's on the Bloomberg Terminal.
LEARN MORE