France Sees Three-Way Race for President as Fillon Bounce Fades
By
Socialist Party's Valls would be well out of run-off range

Terrorism and unemployment cited as most important issues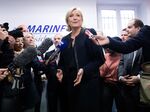 France's presidential election -- once seen as a contest between populist candidate Marine Le Pen and the traditional center-right's Francois Fillon -- is turning into a tight three-way race as Fillon loses ground and independent Emmanuel Macron gains support.
"With four months to go until the first round, nothing is decided, nothing is pre-determined," Yves-Marie Cann, head of political studies at Elabe wrote in a Twitter post. "As always, the campaign will be decisive."

In next April 23's first round, depending on who else runs, former Prime Minister Fillon would receive between 23 and 28 percent, the anti-immigration Le Pen would receive between 22 and 24 percent, and former Economy Minister Macron between 16 and 24 percent, according to an Elabe poll for Les Echos. Elabe questioned 995 people online on Jan. 3-4.
Earlier polls had shown Fillon far ahead and Macron too far behind to challenge the frontrunners. The top two qualify for a run off May 7.
The poll shows no candidates from France's traditional left in sight of making the final cut.
Former Prime Minister Manuel Valls, who is the favorite to win the Socialist Party's primary later this month, would take 13 to 15 percent of the vote in next year's first round. Jean-Luc Melenchon, who is backed by the Communist Party and is running without going through a primary, is credited with 13 to 15 percent. Incumbent Francois Hollande, facing record low popularity, has said he won't seek re-election.
The poll didn't ask about voting intentions in the second round.
Apart from the identity of the Socialist candidate, the other big question is whether centrist Francois Bayrou decides to run.
Bayrou took 18.6 percent of the vote in the 2007 presidential election and 9.1 percent in 2012. He's been unclear about his intentions in recent interviews, suggesting that he sees both Fillon and Le Pen as too right-wing for the French public. At the same time, Bayrou would most likely compete with Macron for the middle ground.
Of the eight scenarios tested by Elabe, Fillon would make the second round in all eight, facing Le Pen in six of them and Macron in two. Macron would qualify if Bayrou doesn't run and Valls doesn't win the Socialists primary.
In an Elabe poll released late November, just after Fillon had won the primary of France's center-right parties, Fillon's support was at 30 to 31 percent, with Le Pen between 24 to 25 percent, and Macron much further back at 14 to 17 percent.
Fillon "has lost steam, probably because of the debate over health care and welfare spending," wrote Julie Catillon, head of studies at Elabe. Last month he backtracked on some earlier campaign proposals to limit the types of treatment covered by France's public health insurance, and has had to repeatedly reassure voters that he won't limit access to abortion.
There hasn't been a shift in the issues at the top of voters' minds. According to the latest Elabe poll, 51 percent of people listed terrorism as a leading concern in the election, followed by unemployment which was cited by 43 percent. Immigration was named by 30 percent and protecting France's welfare state by 29 percent.
Before it's here, it's on the Bloomberg Terminal.
LEARN MORE