China Seen Keeping Reserves Near $3 Trillion to Avoid Alarm
Bloomberg News
Stockpile is seen holding above key level for December

Credit Suisse, StanChart say level could be breached soon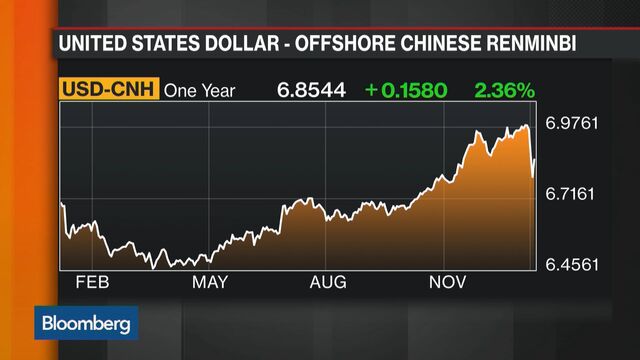 China may take measures to keep its foreign-currency stockpile from slipping too far below the key $3 trillion mark to avoid hurting investor confidence and spurring further declines in the yuan, according to economists at major banks.
The nation's monetary authority may borrow dollars in the swaps market to temporarily keep the reserves above $3 trillion, according to China International Capital Corp. Policy makers will also try and limit the amount of money that companies can move overseas through steps such as cracking down on suspicious overseas acquisitions, said Ding Shuang, chief China economist at Standard Chartered Plc in Hong Kong. He said the level may have dropped to $2.99 trillion last month.
The comments come at a time of increased volatility for the yuan, with the offshore rate notching up its biggest two-day gain on record just days after completing its worst-ever yearly performance against the dollar. The currency then slumped by the most in a year on Friday as the central bank raised its daily fixing less than projected. The nation is due to report its December foreign-exchange reserves data on Saturday, with 17 of 20 economists in a Bloomberg survey seeing the hoard staying just above $3 trillion. The most bearish estimate is for a decline to $2.98 trillion.
"A drop below $3 trillion will negatively impact sentiment and add pressure on the yuan," said Zhao Yang, Hong Kong-based chief China economist at Nomura Holdings Inc., which is ranked by Bloomberg as the top forecaster for the nation's reserves. "The stockpile will likely keep shrinking as the yuan weakens and capital leaves due to companies' expansion overseas and households' diversification of their portfolio with offshore assets."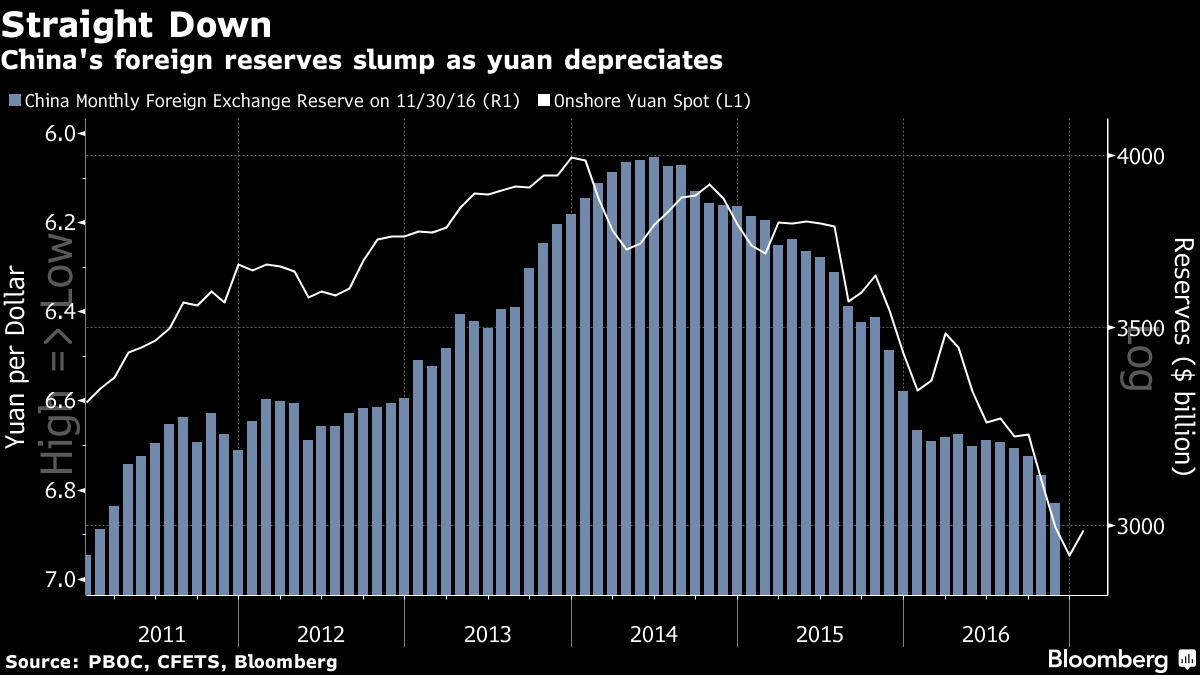 Chinese policy makers have sold more foreign exchange, set stronger-than-expected fixings and tightened capital controls to prevent a vicious cycle of sharper depreciation and further outflows. The offshore yuan's sudden surge this week came after Bloomberg News reported that policy makers were encouraging state-owned enterprises to sell foreign currency and that they were preparing contingency plans for scenarios for the yuan and for outflows.
Financial regulators have already encouraged some state-owned enterprises to sell foreign currency and may order them to temporarily convert some holdings into yuan under the current account if necessary, people familiar with the matter said. A Bloomberg Intelligence report cited an International Monetary Fund methodology as suggesting that China's level of imports, foreign debt and the money supply require a currency buffer of about $1.8 trillion.
About 66.7 percent of China's foreign reserves are denominated in the dollar, 19.6 percent in the euro and 10.6 percent in the pound, according to Yu Xiangrong, an economist at CICC in Hong Kong. The hoard has shrunk 24 percent from a peak of $4 trillion in 2014 as investors pulled money out amid a slowing economy and the People's Bank of China sold dollars to shore up the yuan.
Depreciation in the nation's non-dollar assets, such as those denominated in euro and pound, lowered the value of the stockpile by more than $20 billion in December, according to Koon How Heng, a senior foreign-exchange strategist at Credit Suisse Group AG's private banking and wealth management unit in Singapore. The euro fell 0.7 percent last month, while the pound dropped 1.3 percent. Stronger outflow pressures fueled by expectations the greenback's rally has further to go may have also eaten into the reserves, according to CICC.
Fragile Sentiment
The level of $3 trillion is psychologically important because it's a round number, a break of which would attract investors' attention and weigh on already fragile sentiment, said Xia Le, a Hong Kong-based economist at Banco Bilbao Vizcaya Argentaria SA. Now is hardly a good time for the PBOC to let a decline in reserves add to pessimism, with the onshore exchange rate having posted its biggest annual slump in more than two decades and the domestic bond market posting a rout.
"The important thing is to stabilize the pace of outflows, and I think tightening capital controls now is the right thing to do," said Wang Tao, head of China economic research at UBS Group AG. "Controls on outflows can and will likely be further tightened, especially on domestic corporate and financial institutions' overseas lending and investment activities."
— With assistance by Tian Chen, and Molly Wei
Before it's here, it's on the Bloomberg Terminal.
LEARN MORE