Trump's 'Chess Game' May Hurt Taiwan, Opposition Says
By
Kuomintang vice chairman speaks before Tsai transits in U.S.

'We're not on the front burner': former foreign minister Hu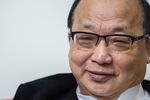 Taiwan's main opposition party warned against getting involved in the "big power play" of Donald Trump, ahead of President Tsai Ing-wen's transit stop in the U.S. this weekend.
Taiwan should instead seek to strengthen one-on-one ties with countries such as the U.S., China and Japan, according to Jason Hu, a vice chairman of the China-friendly Kuomintang party that lost power last year. President-elect Trump broke diplomatic protocol by taking a call from Tsai last month and later linking the U.S.'s policy on Taiwan to a better trade deal with China, drawing a rebuke from Beijing.
Taiwan can't afford to get involved in a "multilateral chess game," Hu, who previously served as foreign minister, said in an interview on Wednesday in Taipei. "We should not be antagonistic to any of the major powers of the world," he said, without referring to Tsai's trip specifically. "Taiwan is small, we need to make friends with everybody."
Trump's willingness to question the decades-long U.S. foreign-policy consensus on China threatens to make Beijing more aggressive in using its economic leverage to pressure Taiwan. More broadly, his approach risks turning the island into the biggest flash point between the world's two biggest economies, even as many in Taiwan appreciated his gesture in speaking with Tsai.
While Tsai's office has not announced any scheduled meetings with Trump officials and her transit through the U.S. en route to Central America is in line with past practice, Hu urged caution among Taiwan's 23.5 million people.
"People in Taiwan thought he could do this for us, he could do that," Hu said, when asked about his hopes for the incoming U.S. leader. "We're not on the front burner."
Why Taiwan-China Ties Can Be Shaken by One Trump Call
The 10-minute conversation on Dec. 2 was one of the most significant interactions a Taiwanese leader has had with a senior U.S. politician since Washington established ties with the Communist government in Beijing almost four decades ago.
Tsai's Democratic Progressive Party stands for greater independence from the mainland, which considers Taiwan part of its territory. She has declined to explicitly endorse the One-China concept -- a longstanding acknowledgment that the two are part of the same nation, even if they disagree on what that means -- while endorsing the Taiwanese constitution, which claims its territory includes mainland China.
Economic Leverage
Ma Ying-jeou, Tsai's predecessor and former Kuomintang President, acceded to the One-China principle. That resulted in eight years of rapprochement and greater economic integration across the Taiwan Strait. China is Taiwan's largest export destination, followed by the U.S. and Japan.
Following the Trump-Tsai call, China stepped up military movements around Taiwan, sailing its aircraft carrier and five warships near the island before conducting drills in the South China Sea. The number of nations that recognize the government in Taipei, rather than Beijing, was cut to 21 last month when China re-established diplomatic ties with the small West African island nation of Sao Tome and Principe.
Tsai will transit in Houston on Saturday. She'll attend the inauguration of Nicaragua's president and visit Honduras, Guatemala and El Salvador before stopping in San Francisco on the way back to Taiwan. Her office has declined to say whether she'll meet any U.S. officials during the stopovers.
'Wrong Signal'
Former President Ma transited in Houston and Los Angeles during a March trip to Central America. Still, China last week urged the U.S. to stop Tsai from passing through.
The U.S. should not send "any wrong signal" to pro-independence forces in Taiwan, Foreign Ministry spokeswoman Hua Chunying told reporters in Beijing last month. She urged "concrete steps to uphold the overall interests of China-U.S. relations and maintain peace and stability across the Taiwan Strait."
"There are people in Taiwan who consider mainland Chinese enemies," the KMT's Hu said in the interview. "The best way to change your enemy is to make him your friend."
Before it's here, it's on the Bloomberg Terminal.
LEARN MORE