Tillerson to Cash Out Quarter-Billion Dollar Exxon Nest Egg
By and
Former CEO to shift $240 million to trust if confirmed

Tillerson to lose about $7 million in total Exxon compensation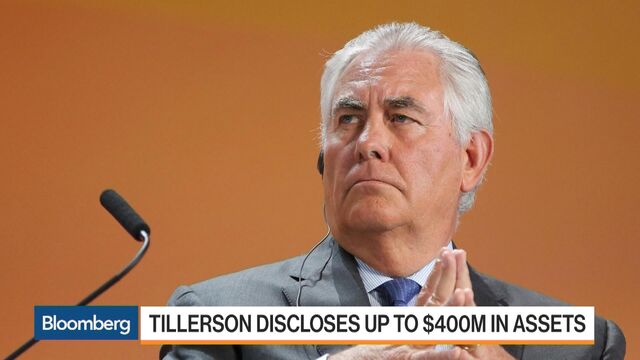 Rex Tillerson will relinquish control of a quarter-billion dollar nest egg amassed over four decades at Exxon Mobil Corp. to avoid a conflict of interest during his confirmation hearings to become U.S. President-elect Donald Trump's secretary of state.
If confirmed, the former Exxon chairman and chief executive officer will convert about 2 million deferred shares to cash that will be surrendered to an independently managed trust, the company said in a statement dated Tuesday. Tillerson also will sell more than 600,000 shares he already owns in North America's largest oil explorer, abandon $4.1 million in cash bonuses he would have been paid over the next three years and take a $3 million haircut on the restricted stock payout.
To avoid a conflict of interest with the multinational corporation he joined in 1975 and led for 11 years starting in 2006, Tillerson needed to work out a resolution for the deferred compensation package that typically ties former executives' personal fortunes to Exxon's performance for a decade after they retire. Exxon's board said it consulted with federal ethics officials to ensure the agreement severing Tillerson's ties to the company was sound.

Tillerson's agreement with Exxon might mean he has to recuse himself from decisions that would affect the company for two years -- double the length of the usual recusal period. That's because Exxon's compensation policies barred accelerated payments of unvested shares -- and the company made an exception in Tillerson's case. Under ethics rules, if a company changes its policy to pay $10,000 or more to an employee nominated for government service, the recusal time doubles.
Such recusals typically require that "you remove yourself from the chain of command of anything that would affect your former company," said Stan Brand, an attorney and government-ethics expert at Akin Gump Strauss Hauer & Feld LLP. Exxon explores for oil and natural gas on six continents.
Tillerson's confirmation hearing before U.S. senators may begin as soon as next week. The 64-year-old Texan is no stranger to Capitol Hill, having testified before congressional inquiries in the past decade on topics as diverse as gasoline prices and the Deepwater Horizon disaster.
Tillerson stepped down as Exxon chairman and CEO on Jan. 1 and was succeeded by refining chief Darren Woods. The company typically retains the services of ex-CEOs post-retirement to benefit from their long-standing relationships with foreign oil ministers, political leaders and dignitaries.
By cutting ties with Exxon, Tillerson is also eschewing post-employment perks such as a private office and administrative support enjoyed by his predecessor and mentor, Lee Raymond. Tillerson spent his entire professional career at the Irving, Texas-based company that traces its roots to the 1880s and John D. Rockefeller's Standard Oil Trust.
Tillerson directly owns 611,087 shares of Exxon, worth about $55.5 million according to Bloomberg calculations based on Tuesday's close in New York. He has an additional 2.026 million restricted shares, worth $184 million.
His severing of his relationship with Exxon isn't unique -- nor is it the largest such separation in recent U.S. history. In 2006, before his confirmation as U.S. Treasury Secretary, former Goldman Sachs Group Inc. Chief Executive Officer Hank Paulson agreed to sell his $485 million stake in the investment firm.
"He can't get rid of the fact that he's a former Exxon executive," said Brand, the government-ethics specialist. "What he can do is remove all his financial holdings in the company, like Paulson did with Goldman Sachs. That's what Tillerson's doing. It'll give him a clean bill of health."
— With assistance by Bill Allison
Before it's here, it's on the Bloomberg Terminal.
LEARN MORE