Why It's Too Soon for Draghi to Celebrate the Return of Inflation
By and
Consumer prices rise 1.1%, core inflation increases to 0.9%

Germany surprised with record inflation surge on Tuesday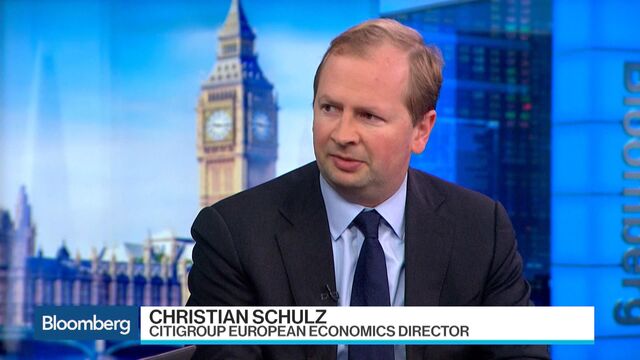 The euro area's deflation scare has abated, but it may not yet be time for Mario Draghi to sound the all-clear.
While the region is experiencing the fastest consumer-price growth in more than three years, it's still only at about half the pace of where the European Central Bank president would like it. At the same time, the core measure is even lower. It stood at 0.9 percent in December -- a five month high, but still only 0.3 percentage point away from its all-time low two years ago.

The question for the ECB's Governing Council, which announced an extension of quantitative easing last month, is whether this is part of its long-awaited "sustained adjustment" in inflation or a technical move related to commodity prices and a weaker currency. Along with continued signs of economic growth, the data may reinforce the position of the central bank's hawkish officials as they prepare for their first policy meeting of the year in two weeks.
"Underlying inflation, which is what the ECB is most worried about, is really going nowhere," said Jamie Murray, an economist at Bloomberg Intelligence in London. "It will keep policy loose. We're going to see some movement in headline inflation, but the ECB is focused on core and underlying and that's what matters."
Even so, Bundesbank President Jens Weidmann has argued in favor of a swift unwinding of stimulus once price growth allows, and Executive Board member Benoit Coeure told Boersen-Zeitung last week that inflation could face upside risks. 
"We are still waiting for signs that core inflation is on the rise and will clearly exceed 1 percent," Coeure said. "That said, our assessment of the balance of risks, including for inflation, is shifting."
Draghi's assessment of the outlook was cautious at the last policy gathering in December, when the central bank unveiled its plan to keep bond buying going at least until the end of 2017, though at a reduced monthly pace.
"The risk of deflation has largely disappeared," Draghi said. "However, uncertainty prevails. Uncertainty prevails everywhere."
The pickup in euro-area inflation last month was driven in part by surprisingly large jumps in Germany and Spain. In the former, the region's largest economy, it rose 1.7 percent from 0.7 percent, a record jump. While there was also an improvement in Italy, its price growth is still just a paltry 0.5 percent.

The unexpectedly strong acceleration in both regional and national inflation rates follows a 12.6 percent surge in Brent crude in December. It rose 52 percent last year, the first annual increase since 2012. The euro is also down 7 percent against the dollar in the past three months. 
"The rise in inflation should not lead to a major change in the European Central Bank's assessment at this stage," said Gizem Kara, an economist at BNP Paribas SA in London. "Aside from scarcity concerns, the ECB's decision to scale back its asset purchases in December was driven by a reduced risk to the euro-zone's economic outlook. Today's inflation data supply further evidence of a marked reduction in 'deflation' risk."
In fact, households, businesses and investors are bracing for higher euro-area inflation.
A gauge of consumers' price outlook for the next next 12 months rose in November to the highest level since mid-2014, while manufacturers' selling-price expectations are at the strongest in more than 4 1/2 years, according to a European Commission survey. 
Inflation expectations, measured by the 5-year, 5-year euro inflation swap rate, stood at 1.8 percent on Jan. 4 -- broadly in line with the ECB's goal of just under 2 percent.
"There are several hawks on the ECB council who are bound to point to these numbers as an indication that the ECB shouldn't be continuing its policy support, certainly shouldn't continue buying such large quantities of assets right until the end of the year," said Jennifer McKeown, chief European economist at Capital Economics in London. "But I think the consensus will be to continue to look through these increases. They are largely energy-related."
— With assistance by Andre Tartar, Kristian Siedenburg, and Piotr Skolimowski
Before it's here, it's on the Bloomberg Terminal.
LEARN MORE