Cowboys Save NFL From Ratings Disaster, With Super Bowl in Sight
by and
Dallas played in five of six most-watched NFL games in 2016

Fans return to compelling season after presidential election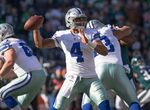 As NFL ratings have recovered from steep losses, the league and TV networks can thank one team in particular for helping to salvage the season: the Dallas Cowboys.
Through week 16, five of the six most-popular games featured "America's Team" and its rookie stars, rushing leader Ezekiel Elliott and quarterback Dak Prescott, according to ESPN. In the second half of the season, the Cowboys averaged 23.7 million viewers -- more than last year's World Series (23.4 million) and NBA Finals (20.2 million), according to data from Fox, which carried Dallas games the most. Late-season games showed double-digit gains.
"There's not another brand in American sports that delivers that kind of impact," said Michael Mulvihill, Fox Sports' executive vice president of research. The Cowboys "have always been the most popular team. Now we have a resurgence, and that's great."
Teams
Network
Audience,
in millions
Washington-Dallas
Fox
35.1
Dallas-Pittsburgh
Fox
28.9
Dallas-Green Bay
Fox
28.0
Minnesota-Detroit
CBS
27.6
New York Giants-Dallas
Fox
27.5
Dallas-New York Giants
NBC
26.5
Source: Sports Media Watch
It was looking much worse for the NFL this fall. Through week nine, the league's TV audience was down 14 percent and the networks were forced to give away free commercial time to make up for one of the worst declines in a decade. Once the election was over, fans returned to popular teams with compelling records, including Dallas, Green Bay, Seattle and New England. For the 2016 regular season, NFL viewing finished down 8 percent.
"Ratings are driven by storylines, so it's no surprise there's been strong interest in the Cowboys," said Lee Berke, president and chief executive officer of consulting firm LHB Sports, Entertainment & Media Inc.
Those storylines include the emergence of Prescott, 23, early in the season following the injury of longtime Dallas quarterback Tony Romo, and Elliott, 21. The team is 13-3 this year. Tom Brady's return from suspension at New England and the division-leading performances of the Green Bay Packers and Seattle Seahawks have also added to the drama. In the second half of the season, NFL ratings were down 1 percent from a year ago.
The Cowboys were so popular that on Dec. 18 NBC re-arranged its schedule to put the team in prime time. Such "flex rights," as they're called, have become a key part of contracts between the league and TV networks, according to Berke.
"That's the way these deals are structured," Berke said. "To give the networks and the league the flexibility to feature those teams that are the biggest ratings grabbers."
The dismal ratings at the start of the season raised questions about the invincibility of NFL broadcasts, which networks pay billions of dollars to broadcast. There have been many theories for the ratings decline. TV networks blamed poor match-ups, non-competitive games, the rise of online streaming and the presidential election.
Some viewers said they boycotted games after NFL players, led by San Francisco 49ers quarterback Colin Kaepernick, began kneeling in protest during the national anthem. The NFL's treatment of players with concussions and its handling of cases of domestic violence also hurt the league's image.
The decline in viewership this season may force TV networks to charge lower rates for advertising next year. And ratings could falter again next season, leaving network and league officials searching around for new reasons. Football, like movies and TV dramas, faces more competition from other forms of entertainment.
With so many options, fans are less likely to stick around for games where the teams are mismatched or boring, said Ed Desser, a sports TV consultant in Los Angeles. 
"People have gotten to be more discerning," he said.
For now, though, network and league officials are breathing a sigh of relief, with some saying they expect bigger postseason viewership than last year because so many teams in major markets have made the playoffs.
Fox's Mulvihill wouldn't be surprised if the playoffs and Super Bowl set audience records this year, even if Dallas doesn't make it to the end. The 2015 Super Bowl holds the record. More than 114 million people tuned in that year to see the Patriots beat the Seahawks in a thrilling last-second finish.
"There are a lot of big brands and big markets in the postseason," Mulvihill said. "We're in a better position than the postseason last year."
Before it's here, it's on the Bloomberg Terminal.
LEARN MORE