China Sets Sights on Another Skeptic-Defying Year
Bloomberg News
U.S. infrastructure spending may help boost China exports

Resilient wages to underpin services growth, consumption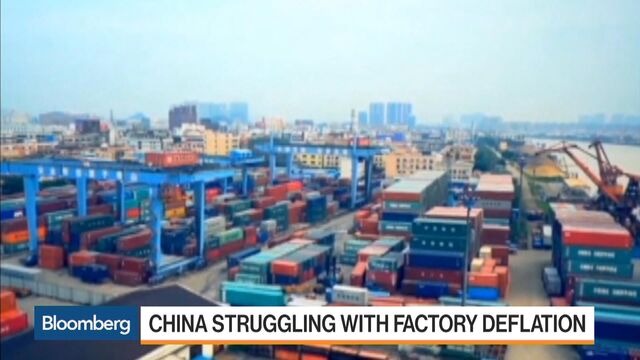 After defying skeptics with solid growth last year, China aims to do the same again in 2017.
With a crucial Communist Party Congress set for late this year, leaders are more determined than ever to prevent blowups that could detract from a twice-a-decade leadership reshuffle.
Things look good so far. The economy recently emerged from four years of factory deflation, consumption is holding up and there's a potential tailwind this year for exports if U.S. President-elect Donald Trump delivers on vows to boost fiscal and infrastructure spending -- and also goes slow on bellicose promises to slap punitive tariffs on imports from China.
Forecasters have raised growth estimates even as policy makers move to curb soaring property prices and battle yuan depreciation that threatens to accelerate, potentially aggravating capital outflows. Recognizing challenges ahead as the nation grapples with rising debt and the risk of confrontation with Trump, President Xi Jinping is open to growth falling below the 6.5 percent target, a person familiar with the situation said last month.
"While there are plenty of challenges going into 2017, China poses less of a systemic risk to markets than it did going into 2016," said David Loevinger, a former China specialist at the U.S. Treasury and now an analyst at fund manager TCW Group Inc. in Los Angeles. "Fears of a hard landing have receded."

Economists and analysts see the following as areas that will underpin strength and possibly provide upside surprises for the world's No. 2 economy this year:
Robust Consumption
Growth will be resilient this year with consumption a major contributor, said Mike Shiao, chief investment officer for Asia ex-Japan at Invesco Hong Kong Ltd.
Resilient wage growth will support retail sales growth of about 10 percent and consumption should continue benefiting from rising demand for services including financial services, health care and education, he said.
Consumption contributed 4.8 percentage point of growth through the third quarter of 2016, and indicators suggest consumers remain upbeat this year, said James Laurenceson, deputy director of the Australia-China Relations Institute at the University of Technology in Sydney.
"The authorities will likely only have to find another 2 percentage points from investment and net exports to hit their growth target in 2017, something that would normally be readily achievable," he said. "There's already a convincing case for growth in 2017."
Global Boost
Trump is vowing to increase U.S. fiscal and infrastructure spending, which may fuel an economic rebound in 2017 that helps Chinese exports and supports its growth, according to Rajiv Biswas, Asia-Pacific Chief Economist at IHS Global Insight in Singapore.
"An immediate U.S. tax cut or strong anticipation of one could provide some stimulus to China," said David Dollar, a senior fellow at the Brookings Institution in Washington and a former U.S. Treasury attache to Beijing. "It won't be huge, but in the current environment it could help China stabilize its growth in the 6 percent to 7 percent range."
An export rebound may buy policy makers breathing space to accelerate restructuring local industries, addressing needed overhauls delayed since the global financial crisis, said Frederic Neumann, co-head of Asian economic research at HSBC Holdings Plc in Hong Kong.
Reflation
China's climb out of deflation is set to continue this year, lifting nominal growth and giving the central bank room to keep interest rates and the required reserve ratio on hold, according to economists Qu Hongbin and Julia Wang at HSBC Holdings Plc in Hong Kong. Reflation will help lower real borrowing costs and ease debt burdens, which could lead to a modest recovery in private sector investment, they wrote in a report.

Party Congress
This year's political climate is especially supportive of growth because the Communist Party Congress makes policy makers "highly risk-averse," said Li Wei, China and Asia economist at Commonwealth Bank of Australia in Sydney.
That means policy support will be intensified whenever growth softens notably, according to Wang Tao, head of China economic research at UBS Group AG in Hong Kong.
Bear Case
Even a bearish scenario playing out this year could be bullish for next year, said Derek Scissors, Washington-based chief economist at China Beige Book International. The implementation of structural reforms that boost productivity and harm short-term growth in 2017 would be bullish for 2018, he says.
"If stability no longer reigns supreme," he said, "there's a lot of capital, domestic and foreign, that will re-embrace China."
— With assistance by Kevin Hamlin
Before it's here, it's on the Bloomberg Terminal.
LEARN MORE