Former Trump Foe to Head Washington Lobbying Group for U.S. CEOs
By
Joshua Bolten will replace former Michigan governor Engler

Bolten tried to organize Republican opposition to Trump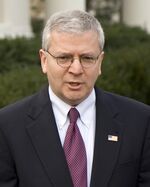 Business Roundtable, the powerful lobbying group for U.S. corporate executives, has hired Joshua Bolten, a chief of staff to former President George W. Bush and one of President-elect Donald Trump's Republican critics, as its president and chief executive officer.
The group made the announcement days after its new chairman, JPMorgan Chase & Co. Chief Executive Officer Jamie Dimon, began his two-year term. Bolten, 62, who is to start on Jan. 23, will run the day-to-day operations and manage the organization's staff.

The nonpartisan association represents nearly 200 CEOs from major companies across the economy. Its agenda is topped by an overhaul of the tax code, deregulation and trade promotion. The group advocated for the Trans-Pacific Partnership trade agreement with Asia-Pacific nations, which Trump opposes.
"There's plenty of space to work with the Trump administration" on trade, Bolten said in a telephone interview. "I'm very encouraged by the team that the president-elect is putting together."
Bolten tried to whip up opposition to Trump among former Bush staff during last year's Republican presidential primary, according to an e-mail obtained by The Daily Caller. Bolten said in the e-mail that Trump "isn't fit for the office our former boss held with such distinction" and warned that the real-estate mogul could cripple the Republican Party.
'That Was Then'
"That was then, this is now, and the now includes a president-elect Trump who has earned the benefit of the doubt from all of us who work in the policy world," Bolten said. Trump "has made some very smart moves in his transition to underscore that we should, over the next couple of years, be looking at a very promising atmosphere for the adoption of important pro-growth economic policies."
Bolten said there is "the very real prospect of substantive, transformative tax reform" under Trump.
Bolten is currently the managing director of Rock Creek Global Advisors. Before leading Bush's White House, he directed the White House Office of Management and Budget and was general counsel to the U.S. trade representative. Prior to joining Bush's administration, he was chief trade counsel for the Senate Finance Committee and a State Department attorney.
Dimon, a Democrat, was rumored to be a candidate for Treasury secretary, but instead accepted a role on a Trump economic advisory team. Bolten succeeds former Michigan Governor John Engler, a Republican, who retired. Dimon replaces Caterpillar Inc. CEO Doug Oberhelman.
Before it's here, it's on the Bloomberg Terminal.
LEARN MORE