As China Money Markets Ease Up, Traders Gird for Next Crunch
by
Rate swaps and bond yields plunged after cash injections

But Lunar New Year, yuan drop threaten to push costs back up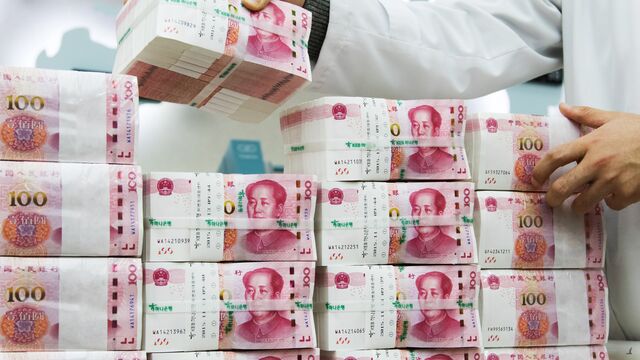 China's traders are bracing for a return of tighter liquidity as demand for cash surges before the start of the country's biggest holiday.
Onshore money markets have only just loosened as the People's Bank of China stepped up support to ease a crunch that it was partly responsible for and as seasonal tightness around the new year ended. That relief is likely to be temporary: Lunar New Year holidays -- for which households and firms typically need more cash -- start earlier than usual this year on Jan. 27. Capital outflows, fueled by yuan depreciation fears, may also add to stress in the financial system.
China's benchmark seven-day repurchase rate fell 37 basis points to 2.30 percent on Wednesday, the most in two years on a closing basis, according to weighted average prices from the National Interbank Funding Center. The rate started drifting higher in August as authorities tightened the supply of cash to spur deleveraging and defend the yuan.
"The New Year message from China is relatively tighter monetary policy and capital controls, and higher tolerance for (mild) growth moderation," Morgan Stanley economists Robin Xing and Jenny Zheng wrote in a Jan. 3 note.
Here's where China's markets stand:
1. Rate Swaps and Bonds

Interest-rate swaps and bond yields have seen a pullback after a drastic surge, partly thanks to cash injections by the PBOC. Concern over counterparty risks also eased after Sealand Securities Co. reached agreements with 19 institutions to resolve a forged seal scandal.
Still, bonds seem to be showing renewed stress. The 10-year government bond yield jumped seven basis points on Thursday, taking its gain this week to 15 basis points.
2. Money-Market Rates

While the seven-day repo rate plunged, the one-month interbank rate known as Shibor climbed four basis points on Thursday, the most since March, extending its record rising streak to a 40th day.
Since the country's new regulatory assessments for banks are quarterly and funding will tighten around China's New Year, it's hard for money-market rates to return to levels seen before November, China International Capital Corp. analysts led by Chen Jianheng wrote in a note. Demand for yuan typically rises before the week-long holiday as cash gifts and bonuses are paid around that period.
3. MLF Injections

As the interbank market tightened, the PBOC added a record amount of cash to the financial system through the Medium-term Lending Facility in December. While the central bank will maintain a tightening bias to curb bond leveraging, it will avoid any liquidity shocks through open-market operations, the Morgan Stanley analysts said.
4. Exchange Rate

One major source of pressure on money markets is the weakening yuan, which is trading near the psychologically key level of 7 per dollar. To slow outflows, the government has stepped up requirements for Chinese individuals obtaining foreign currency -- a move that may also backfire by encouraging them to sell their yuan before controls tighten further. Another reason why yuan weakness is bad news for money markets is that it may prompt policy makers to keep rates elevated in order to support the exchange rate.
Still, the pressure may be easing for now. The offshore yuan posted a record two-day rally on Thursday after interbank rates jumped and people familiar with the matter told Bloomberg News the government is preparing contingency plans to boost the currency.
5. Offshore Rates

Stress in offshore money markets has been even more acute. Hong Kong's overnight yuan interbank deposit rate jumped to as high as a record 100 percent on Thursday on speculation authorities are keeping money tight to fend off shorts on the Chinese currency. More fundamentally, the city's yuan deposits have dwindled 37 percent from their peak, showing how weak demand for China's currency has become.
Before it's here, it's on the Bloomberg Terminal.
LEARN MORE