Trump Says Obama Administration Should Stop Guantanamo Releases
By
Detainees dangerous and shouldn't be freed, Trump tweets

Obama has vowed to continue effort to empty prison camp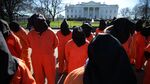 President-elect Donald Trump said Tuesday that the Obama administration shouldn't release any more detainees from the military prison at Guantanamo Bay, warning the prisoners are "extremely dangerous people."
Detainees "should not be allowed back onto the battlefield," Trump tweeted.
The message comes as the Obama administration is planning to move some or all of a group of 22 prisoners at the facility who have been recommended for transfer. President Barack Obama says the prison located on a U.S. naval base in Cuba is too costly and serves as a recruitment tool for terrorist organizations. He's said he's frustrated that he's been unable to close the camp, which he pledged to do before taking office.
Obama offered a plan to close the prison in February, but members of Congress have objected to the possibility of moving the remaining prisoners -- including some who allegedly plotted the Sept. 11 terrorist attacks -- to military bases or high-security prisons in the lawmakers' home states. In late December, Obama said he would continue to transfer prisoners until his final day in office and criticized a provision in legislation funding the military that restricts his ability to close the facility.
'Judged Harshly'
"Unless the Congress changes course, it will be judged harshly by history," Obama said. Administration officials have said few of the detainees released under its review process have engaged in terrorism.
Pentagon spokesman Peter Cook said Tuesday the U.S. would continue to carry out Obama's policy on Guantanamo Bay. "There's one commander-in-chief at a time," Cook told reporters at a Pentagon news briefing.
A sizable transfer at the end of Obama's term would significantly cut into the 59 remaining prisoners at the base. Obama has repatriated or resettled 179 prisoners over his eight years in office.
Trump has vowed to keep the prison open during his administration, calling it instrumental to his counterterrorism strategy.
"We're gonna load it up with some bad dudes, believe me, we're gonna load it up," Trump said during a campaign rally in February.
In a subsequent interview with the Miami Herald, Trump said he supported subjecting Americans accused of terrorism to trial by military commissions at Guantanamo.
Before it's here, it's on the Bloomberg Terminal.
LEARN MORE