Mexican Economy Facing Tough 2017 Even Without Trump's Wall
By
High inflation, weak peso and possible rate hikes pose threats

Less U.S investment may also weigh on economic expansion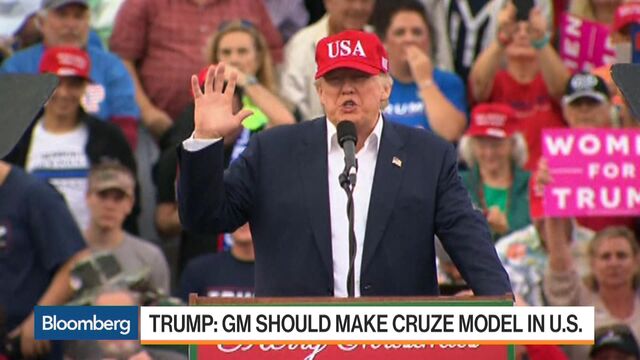 Bank of Mexico's governor has warned that Donald Trump could be a "horror film" for the nation. Analysts say the country's economy is in for a nightmare even if the incoming president doesn't build that wall or ball up NAFTA. 
Surely, Trump's ability to alter relations between the nations will play a major role in how Mexico's economy performs in 2017, and on Tuesday, Trump said that General Motors Co. should face a hefty tariff for exporting cars from Mexico. But the country had its work cut out for itself even before he prevailed, as problems from a weakening currency to faster inflation look certain to deliver a third straight year of slowing growth.
Economists forecast gross domestic product will expand just 1.7 percent this year, according to the latest surveys from Banco de Mexico and Citi/Banamex, as anticipated rate increases weigh on borrowing and spending. That'd be the slowest since the 1.4 percent achieved in 2013.
"It's going to be a very difficult year for policy makers," said Benito Berber, the senior economist for Latin America at Nomura Holdings Inc. in New York. "The central bank will have to navigate a lot of different shocks, external and internal."
While forecasts are more dire at Credit Suisse Group AG and Bank of America Corp. -- where economists anticipate growth could be the slowest since the height of the financial crisis -- any threat to the North America Free Trade Agreement that started Jan. 1, 1994, would make these seem rosy. Mexico sends more than three-quarters of its exports to the U.S. and ran a trade surplus of about $60 billion in 2015, accounting for more than 5 percent of economic output. Trump lashed out at a U.S. company manufacturing in Mexico early Tuesday.
"General Motors is sending Mexican made model of Chevy Cruze to U.S. car dealers-tax free across border," Trump tweeted. "Make in U.S.A. or pay big border tax!"

Perhaps the last thing a country with anemic growth needs is higher interest rates, but the central bank may not be able to avoid tightening. Inflation is expected to run well above the 4 percent top end of the institution's target throughout 2017, according to forecasts from Banco Bilbao Vizcaya Argentaria SA, Grupo Financiero Banorte SAB and JPMorgan Chase & Co., as the government moves ahead with plans to raise the price of gasoline by as much as 20 percent in January.
As inflation expectations keep climbing, swap traders increasingly see Banxico tightening as soon as February, before the Federal Reserve. The Mexican central bank may need to act swiftly to anchor price expectations and safeguard its own credibility, Governor Agustin Carstens has repeatedly stressed.
Maintaining a stable interest-rate spread to the U.S. to prevent currency outflows could also force Banxico's hand as the Fed signals a faster pace of tightening in 2017. Mexico's swap curve (TIIE) prices in about 125 basis points of increases in 2017.

Trump's promise to make Mexico pay for a border wall seems less likely to be a burden in 2017 than his threat of retribution against companies that move jobs abroad. If that makes U.S. manufacturers hold off or slow down investment in Mexico, the impact would be significant. More than half of the $30 billion in foreign direct investment in Mexico in 2015 came from the U.S. Already, Citigroup Inc. has cut its projections for total investment in Mexico from abroad for 2017, to $25 billion from $35.8 billion. 

Perhaps Trump's biggest impact will be on the peso, which became a proxy for his election chances. It's tumbled about 11 percent since the vote to near record lows, putting pressure on the central bank to intervene as inflation expectations rise.


Before it's here, it's on the Bloomberg Terminal.
LEARN MORE