Jain Finds Second Act as Ex-Deutsche Bank Chief Joins Cantor
by
Smaller firm hires global bank's former rainmaker as president

Jain is returning to his trading 'sweet spot,' professor says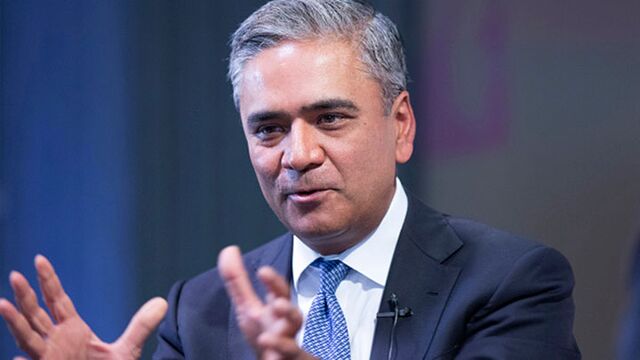 He was a rainmaker who helped build Deutsche Bank AG into a Wall Street juggernaut before post-crisis rules and probes slashed profits, prompting the firm to shrink and him to move on. Now, a smaller rival is giving Anshu Jain a chance to prove his prowess anew.
Jain, who stepped down as co-chief executive officer of Germany's largest bank in mid-2015, will join Cantor Fitzgerald LP as president in coming weeks to help the New York-based firm grow businesses including trading and prime brokerage. His new employer's financial services and real estate units collectively have more than 10,000 workers -- but that's just a 10th what Jain previously led.
"Jain is a good pick to expand Cantor's trading and markets business. That is his sweet spot," said Erik Gordon, a professor at the University of Michigan's Ross School of Business. Still, "it is a step down for Jain."
The appointment announced Monday is Jain's answer to a career conundrum faced by a roster of bank CEOs in recent years: What follows a top spot? As stiffer rules, crisis-era fallout and other travails prompted boards to seek new leaders, former CEOs such as Barclays Plc's Robert Diamond and Credit Suisse Group AG's Brady Dougan have sought to set up new financial ventures. Citigroup Inc.'s Vikram Pandit funded startups in India and elsewhere. Some spent time in academia.
Thain's Path
Jain's jump to Cantor is a less-traveled path -- more akin to former Merrill Lynch & Co. CEO John Thain's decision in 2010 to help a much smaller business lender, CIT Group Inc. Thain had spent his career climbing Wall Street's ranks to take control of Merrill just months before the financial crisis abruptly prompted that firm's emergency sale to Bank of America Corp. At CIT, he went on to serve six years as CEO, overhauling its financing and operations.
But Cantor, with clients in more than 25 countries, is already on a growth trajectory. Chief Executive Officer Howard Lutnick rebuilt the firm after the Sept. 11, 2001, terrorist attacks killed 658 of its employees -- more than two-thirds of its New York-based workforce. In the years since the financial crisis, he has hired and acquired businesses while many larger Wall Street investment banks retrenched. Now, Jain will help with the next phase, Lutnick said in an interview on Monday.
"We have a great fixed-income business in America, but we'll expand the number of products in which we'll do business with our clients," Lutnick said. "In Europe, we'll grow our investment banking business, taking Cantor Fitzgerald into the next level." And the firm aims to grow in Asia, he said.
Jain's new post may allow him to find and take risks, in contrast with life at Deutsche Bank, which was reining them in, said the University of Michigan's Gordon.
Lutnick's Confidence
"You can also hit a home run at a growth story," said Noah Schwarz, a senior client partner at executive search firm Korn Ferry. He predicted other former bank chiefs may ultimately land at similar companies with big ambitions. "They're aggressively hiring, they're looking to do deals that other banks are not doing," he said.
Jain joined Deutsche Bank in 1995 and rose to lead a corporate and investment banking division that produced most of the company's revenue. He became co-CEO alongside Juergen Fitschen in 2012. But a cascade of bad news soon followed, forcing the pair to shift strategy, bolster capital and eliminate costs. Months before Jain stepped down, Deutsche Bank was ordered to pay $2.5 billion for its role in rigging benchmark interest rates known as Libor. Last month, it reached a $7.2 billion settlement to end a U.S. probe into its sales of mortgage securities that fueled the crisis.
While authorities didn't accuse Jain of any wrongdoing, the Frankfurt-based bank's travails probably limited his options, said David Hendler, founder of Viola Risk Advisors, which analyzes global systemic banks and brokerages.
"It's interesting that Lutnick has so much confidence in him when so many observers of Deutsche Bank think he's accountable for the problems over there," Hendler said.
'Something Different'
Lutnick said he became friends with Jain over the past five years and that by late last summer they began talking about the possibility of Jain signing on. In a statement, he praised Jain's proven ability to build a leading business.
"This is Anshu doing something different," he said. "He's already run Deutsche Bank. He's not trying to recreate that. He's trying to do something different, and something with a different client focus."
Before it's here, it's on the Bloomberg Terminal.
LEARN MORE